Got Tech Stocks? Sell These Flops Now…
Stocks started higher yesterday. And it looked like we were looking at a much-needed comeback day to steady this wobbly market…
But no. Just before the closing bell, sellers crashed the party and squashed what was left of the rally.
That ain't exactly bullish, my friend. That Santa Claus rally might have to wait till next year.
That's the bad news. The good news?
You've got a chance to put a nice 35% gain in your pocket – today.
I'll tell you how in a second…
But right now, I'm staring some nasty breakdowns in the eye. And I'm not talking about some fly-by-night garbage stocks either. These are legit, household names that investors are kicking down the stairs.
I'm talking about tech stocks. No, not the social media names I've been hating on recently. I mean the big tech "blue chips" that rarely drop 1% on any given day—let alone 3%. But that's exactly the kind of breakdowns we're seeing this week.
Confidence in the stock market has evaporated just days after it hit all-time highs. The S&P 500 has dropped 5% in just seven trading days. And yesterday brought nothing but selling.
Of course, the unexpected crude crash has had a major hand in all this. Every analyst and economist on the planet has oil targets on the books that are flat-out wrong. At the start of the year, the consensus estimate for year-end oil prices was about $95. I don't think I have to tell you how wrong this turned out to be…
And the latest victim of the crude rout is none other than the stalwart tech stocks. These are the go-to trades that have held up all year long. I'm talking about stocks like Google, Yahoo! and Microsoft. Like I said before, these aren't no-name stocks you're seeing drop more than 10% from their highs last month. These are the cream of the crop. Well, maybe I should say "were"…
Remember our old friend Amazon? The stock I called a big, fat sell back at the end of October? Well, it's down nearly 13% this month alone…
Google's another one. The king of search can't even find a buyer these days. By the closing bell, it had dropped to new 2014 lows. As of this morning, this stock is down more than 11% on the year. That just plain sucks…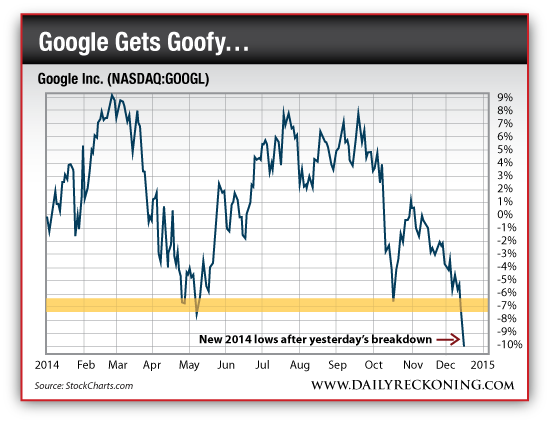 These big, safe tech stocks are easily outpacing the S&P and Nasdaq's declines this month. Whether you're trading or investing, you'll want to avoid these names until they begin to show signs they're ready to turn it around.
Which brings me to your second big sell of the week. That's right, I have another sell for you today. Just the other day you booked gains close to 20% on your Freeport-McMoRan Inc. (NYSE:FCX) short play. This time, you're able to net a cool 35% gain.
I'm talking about Apple Inc. (NASDAQ:AAPL).
You already know that Apple has been a great performer in our longer-term portfolio. I named this stock our "trade of the year" all the way back in January. That's back when no one was expecting much from the tech giant.
But you know the rest of the story…
Apple delivered for us in a big way in 2014. Throughout bouts of volatility and uncertainty, Apple shares soldiered higher. However, December has not been kind to this stock. It's down sharply from its November highs—a move that's not just out of character, but possibly a sign that we'll see further weakness from tech stocks large and small heading into the 2015.
Plus, Apple is now well below its 50-day moving average. And given that we're approaching 2015, I think this is a sign that you should take profits on this play. While the S&P 500 is up less than 7% this year, AAPL has surged more than 35%. Take these gains off the table now.
Regards,
Greg Guenthner
for The Daily Reckoning
P.S. Whether you're trading or investing, you'll want to avoid tech stocks until they turn around. I'll let you know when. If you want to cash in on the biggest profits this market has to offer, sign up for my Rude Awakening e-letter, for FREE, right here. Don't miss out. Click here now to sign up for FREE.