How to Make the Casinos Pay You for a Change
Hooray! The stock market is saved!
Well, most of it. After yesterday's broad advance, things are looking a lot less terrible. Except for one dismal sector…
Yesterday's huge rally exposed the bottom-dwellers, which can't find a place to hide from Mr. Market. None of these stocks can catch a bid these days. And we're going to cut one of them out of your portfolio today.
You'll be all smiles once you jettison this position for an easy double-digit gain. I'll explain how you can collect your "winnings" in just a minute…
The charts for some of these guys are so terrible, you won't find a hint of even the tiniest dead cat bounce. I mean, we're talking about the gutter here. So, what sector do these charts belong to? Gaming stocks. That's right—the major resorts and casinos are cratering. We're gonna make them pay you for a change…
Casinos were actually one of my favorite longer-term plays for quite a while. The weekly charts were set up beautifully, with stocks like MGM Resorts International (NYSE:MGM) sporting perfect, orderly uptrends. If you bought MGM in late 2012 and sold this January, you would have walked away with a clean double. But today, your best bet is to walk away from gaming stocks entirely.
It's a theme we've shared with you since April. And it's only gotten worse. The gaming industry has come under all sorts of pressure–a situation I first noticed in the charts. The powerful, multi-year uptrends started showing cracks. And it wasn't long before those cracks turned into gaping holes you could drive a friggin' truck through. That's where things stand today.
The slow death of Atlantic City tells the whole story. Just a few months ago, the $2.4 billion Revel Casino Hotel closed its doors after just two years of operation. The luxury resort was supposed to bring millions to the dying gambling town. Instead, its most famous moment involved a certain football player punching his wife in one of its elevators.
So why are the big gaming companies holding such bad hands these days?
Well, it's a combination of two main factors. First, in a mad dash to secure more revenue, local and state governments around the country are legalizing gambling at a dizzying rate. It makes sense. Why let the state next door collect all that sweet tax money from casinos when you could have your own? Heck, Baltimore— home of yours truly— just opened a huge casino downtown near the stadiums to attract the suckers – I mean gamblers. And casinos like this one continue to poach customers up and down the East Coast from poor ol' AC.
Slowing growth in China isn't helping casinos, either. The gambling mecca of Macau is feeling the pinch. And just yesterday, we found out that China will start cracking down on illicit money channeled through casinos, according to Bloomberg. That's another nail in the coffin for the already beaten-down gaming stocks.
Back in early September, I told you Wynn Resorts (NYSE:WYNN) had the best-looking short setup of any of the resort and casino stocks on the market. Since then, the stock has fallen more than 26%. It's all part of a major breakdown in the sector. To see the big picture – and the handwriting on the wall for gaming stocks – look no further than the Market Vectors Gaming ETF (NYSE:BJK)…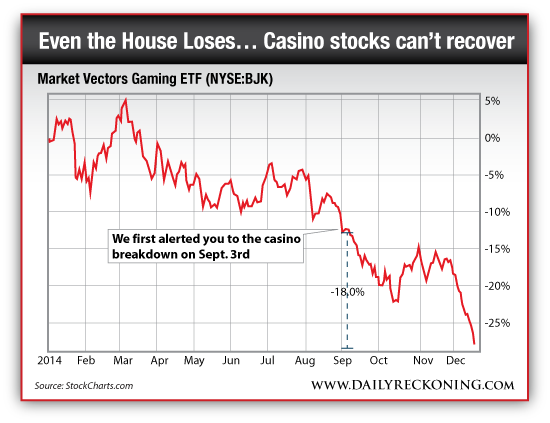 BJK has sunk 18% since the beginning of September—and I don't think it's getting up off the mat anytime soon…
Regards,
Greg Guenthner
for The Daily Reckoning
P.S. Gaming stocks used to be among my favorites. Not anymore. If you want to cash in on the biggest profits the market has to offer, sign up for my Rude Awakening e-letter, for FREE, right here. Don't miss out. Click here now to sign up for FREE.