Forget the Oil Crash – Crush the Market With Biotech Stocks
The financial media is playing the "when will oil bottom?" game to help fill the 24-hour news cycle—but that's not going to make you money.
So, today I have a trade that will…
Sure, crude just took a breather to plug the leaks. It even jumped a couple of bucks. But when all was said and done yesterday, oil landed right back on its ass, like an old drunk falling down a flight of stairs.
But this game of chicken with busted energy names is just a distraction for speculators. The real gains are actually hiding in plain sight—in a sector you can buy right now without getting your hands chopped off. And that's where we're heading today…
Hey…remember biotechs? Those sneaky upstart pharmaceutical firms? Yes, they're still helping traders rake in serious gains—whether oil is crashing or not.
And you're looking at swift double-digit gains if you hop on biotechs right now.
Back in late October, just a little less than two weeks removed from the start of the epic fall comeback, I told you I was backing up the truck on biotech. We called it—without a lot of fanfare, a massive biotech breakout arrived, with promises of big profits. And so far, it's delivered.
Here's what I wrote back on Oct. 27th:
This is all you need to know: biotech stocks are on a tear right now. They've shot up a staggering 12% since October 15th. That's an insane move in such a short time. And they've got all kinds of room to run. In fact, with many important names hitting new highs right now, biotech could be the best performing sector on the market for the rest of 2014.
In fact, despite a roller coaster fourth quarter, the hottest biotechs have essentially said "screw you" to the recent bout of market weakness.
Take a look for yourself: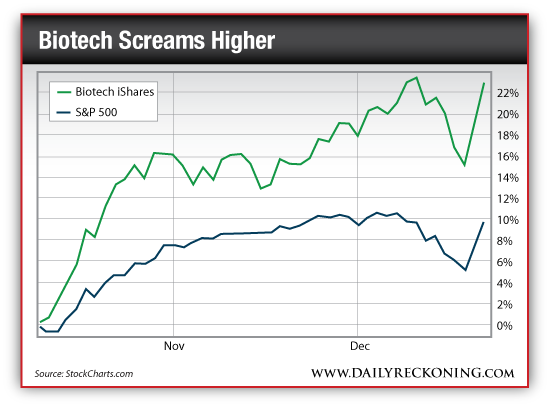 The Biotech iShares ETF is up 23% since the Oct. 15th bottom. No, that is not a typo. Biotechs have torched the S&P over the past two months—more than doubling the returns of the big index. And biotechs as a group are up more than 38% year-to-date. In fact, since we first highlighted the June comeback, the Biotech iShares have gone nowhere but up.
And if recent action is any indication, they're just getting started…
Zor Capital managing director and momentum trading sage Joseph Fahmy says there are two key reasons to stay bullish on the biotech sector. First of all, he's seeing plenty of evidence that big money is buying these stocks. With the institutional wind at their back, we could see a much bigger rally.
Also, Fahmy notes on his Twitter feed that many of these companies have announced secondary stock offerings. That means dilution. After all, more shares hitting the market means the pie gets split more ways.
However, the stocks of companies announcing these offerings (he cites Agios Pharmaceuticals, Bluebird Bio, and Kite Pharma) have all rocketed higher. The market has quickly absorbed the excess supply of shares—and they continue to rise. That's about as bullish as it gets…
This week, every trader in the galaxy is trying to knife-catch plummeting energy stocks. But you have a much better (and safer) trade opportunity here with biotechs. Don't miss it…
Regards,
Greg Guenthner

for The Daily Reckoning
P.S.This week, every trader in the galaxy is trying to knife-catch plummeting energy stocks. But you have a much better (and safer) trade opportunity here with biotechs. If you want to cash in on the biggest profits this market has to offer, sign up for my Rude Awakening e-letter, for FREE, right here. Don't miss out. Click here now to sign up for FREE.