It's Time to Buy Microcaps for Double-digit Gains
Remember this guy?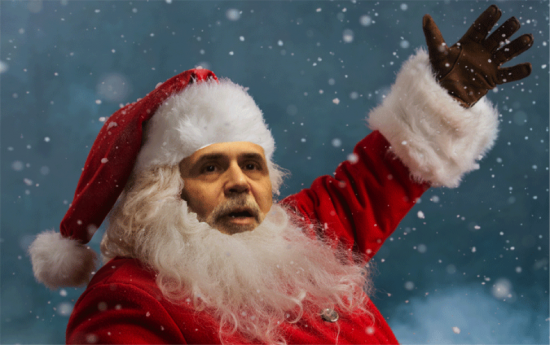 He was a jolly (OK, so use your imagination) bearded man who visited the houses of all good little investors, spreading gifts and Christmas cheer. No more. But I hear he's got a new gig…
"Now that he's no longer Fed Chief, Ben Bernanke is taking advantage of his newfound free time with a seasonal job as a mall Santa," quips Jonas Elmerraji, sitting alongside me at our trading desk. "Considering his prior experience dumping cash into the global financial system, I think he'll do great at handing gifts to kids."
Ha! Sadly, Santa Ben won't be handing you a bag of cash this holiday season. But don't worry. His successor, Santa Janet— and wow, some people look awful in beards— just wrapped a big, fat present for traders and investors alike…
To the shock of precisely no one with half a brain cell, the Fed announced the other day that it would exercise patience when it comes to raising rates next year.
Translation: let's keep the party rollin', fellas.
In fact, the Fed could partially take credit for last week's historic rally. Add in the fact that oil is finally catching a bid after falling to below $55 – it's now over $57 – and you have the recipe for a real face-ripping stock rally.
And that's great news for you – because it's making one of our recent ideas look so brilliant it can blind…
A major breakout in microcap stocks is underway. And if you haven't hopped aboard the train yet, now's the time. Because you're looking at double-digit gains in a matter of just a couple of months when it starts to take off…
I alerted you to the first signs of this major opportunity almost two weeks ago. Here's what I said:
"… the real winner after all the bloodshed (and the market's remarkable comeback) is small-cap stocks. After coughing up more than 1.2% at the open, the Russell 2000 small-cap index caught a bid and finished the day up 1.8%. That's right–the Russell posted a 3% gain trough to peak, stomping the throats of the major averages."
Once again, small-cap stocks were the early signal that a comeback was in the works for stocks. That's important since small stocks have taken a back seat to the biggies this year. That's unusual – they're usually out in front, setting the pace during a rally. So while the S&P has gained more than 12% year-to-date, the Russell has gone nowhere.
But that's changing, even as you read these words.
Just look at this chart: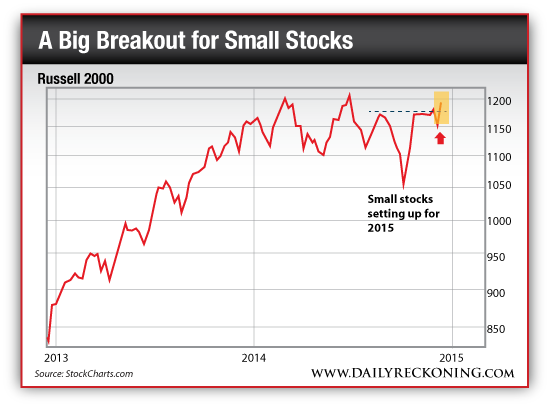 After a year of sideways action, smaller stocks are heating up. The timing couldn't be better, either. The Russell 200 small-cap index has just broke above its August highs. It's only a matter of time before it sets a new record. The charts are setting up perfectly.
Yup, small-caps are setting up for a comeback year. In fact, I believe they'll retake a leadership role in the markets in 2015. So now's your chance to set yourself up for potentially massive gains before these stocks start grabbing headlines again.
Regards,
Greg Guenthner

for The Daily Reckoning
P.S. Mark my words – this could be your most important investment of 2015. Don't put it off… If you want to cash in on the biggest profits this market has to offer, sign up for my Rude Awakening e-letter, for FREE, right here. Don't miss out. Click here now to sign up for FREE.