2015: The Year You Become a Stock Market Mercenary
Happy New Year. Time to bang the rust off your gears and get back to work, sweetheart.
It's also time for you to take just a couple of minutes of your morning to learn how 2015 is shaping up as the best year of your trading life. No kidding. I'll tell you how in just a second…
But first, I'm guessing the trading crowd hit the bottle pretty hard over the holidays. That's because 2014 wasn't exactly kind to the stock pickers. In fact, it downright sucked. Only about 10% of stock pickers beat their benchmarks over the past 12 months, according to the Financial Times. 10 friggin' percent…
So, if you bought the S&P one year ago and pulled a Rip Van Winkle, you actually would have booked 11% – and kicked the crap out of 90% of the so-called smartest guys in the room.
And since a trend in motion usually stays in motion, I'm thinking the stock pickers of the world could be in for another tough year. Of course, I don't want you to get caught on the wrong side of the market with them, either.
"Gee, that's great, Greg," you're saying, "but how the hell am I supposed to make money in 2015?"
Glad you asked…
I'm dedicating this entire week to answering that question. After all, that's why you're here, right? You want to beat the market. You want to claw your way out of stock-picking hell and grow your brokerage account.
So that's what we're going to do. For the rest of the week, I'm going to take a step back and break down the most important moneymaking themes of 2015. These are the potential market-altering trends that could make or break your entire year. They're coiled like springs, ready to shoot a slect few plays into the stratosphere.
For the rest of the week, I'll be telling you how to place your bets on the biggest market themes of 2015, while avoiding the losers.
Now, I have to admit, I hate writing about big themes most of the time. The market is just so damn unpredictable. And I know you might want to fit me for a noose when I get amped up on a big-picture trade, only to jump ship a couple of weeks later when it doesn't work out.
But hey, like one famous economist said, "When the facts change, I change my mind. What do you do, sir?
Amen, brother…
In this business, too much conviction breeds disaster. Don't believe me? Then check out the big oil spill of 2014. And while you're at it, tell me how many folks saw that one coming…
Sure, we were bulled-up on the oil patch stocks during the first half of the year. But if we ignored the market's signals and stuck with our gut, we would have faced a huge disaster.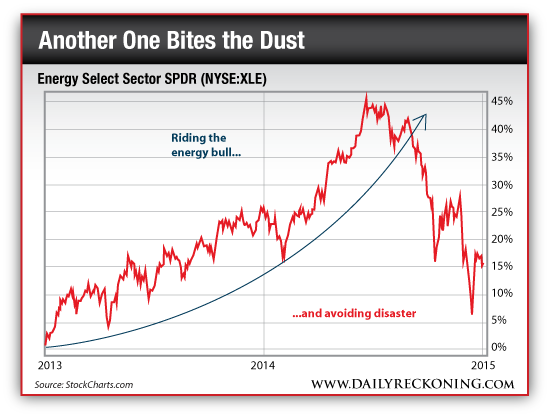 Look how quickly a big winner can give it all back… and then some.
This year, I want you to forget about all the noise. I want you to ignore the speculation about $20 crude, a possible 20% market correction, or the 20 stocks you're supposed to buy right now unless you want to die broke and alone. Tune it all out. All of it.
Because I'm going to show you a much better way to make money in today's market…
In 2015, you are no longer a sucky stock picker. You are a stock market mercenary.
This morning, the market opens its first significant trading day of the year. (Friday didn't count because most traders were nursing day-two of their New Year's Eve hangovers).
And your first big trade of the year will hit your inbox tomorrow morning. I know you're up for the challenge…and the reward.
Regards,
Greg Guenthner

for The Daily Reckoning
P.S. Your first big trade of the year will hit your inbox tomorrow morning. I know you're up for the challenge…and the reward. If you want to cash in on the biggest profits this market has to offer, sign up for my Rude Awakening e-letter, for FREE, right here. Don't miss out. Click here now to sign up for FREE.