How Chinese Stocks Will Mint You a Fortune
As promised, your next big trade of the year is here. And it may surprise you…
Let me tell you a quick story about the day I first revealed this pick to a skeptical group of grizzled analysts—then I'll show you how it could become the undisputed heavyweight champion of your portfolio this year…
Back in April 2014, I delivered a presentation to my fellow editors here at Agora Financial, highlighting the best "bad trades" of the year. My purpose was clear as crystal – I wanted us to scour the world for the tarnished, unloved gems most likely to turn around their failing fortunes. And that meant rolling up the ol' sleeves to dig through the garbage for the most filthy, beaten-down investments with the potential for incredible (and unexpected) gains.
Let me tell you, sifting through all that sludge is tough work. You gotta find the worst of the worst. Then, you have to figure out which of these ideas actually has a chance to rebound. That, my friend, ain't easy.
"What investments really freak out investors right now?" I asked my colleagues.
Silence (and a few eye-rolls) followed. No one had the stomach to buy the blood in the streets. They wanted to talk about technology, REITs, energy stocks, the man on the moon – whatever.
And that's when I dropped the bomb…
"China—specifically the Shanghai Composite—is the most unloved, under-owned, and economically disastrous play in the world. Which is exactly why it will be one of the best performing markets over the next 12 months."
Crickets…
I broke out all my fancy charts to make the case, but they all just sat there, trying to hide their smirks.
This room full of opinionated fundamental investors showed zero interest in my charts. I probably would have had more success trying to convince the damn cat…
Now, I know that trade sounds crazy. Heck, a few of these guys told me that to my face. But hear me out…
Because I'm even more excited about this idea now than I was nine months ago.
Here's why…
The Shanghai Composite has trended lower for a very long time. Seven years, to be exact. That's right. While your portfolio started to recover in 2009–and pop to record highs last year–Chinese stocks were stuck well below their 2007 peak. In fact, they're still nowhere near those levels.
Here's a chart I made for you back in May. Just look at how Chinese stocks dragged along for years…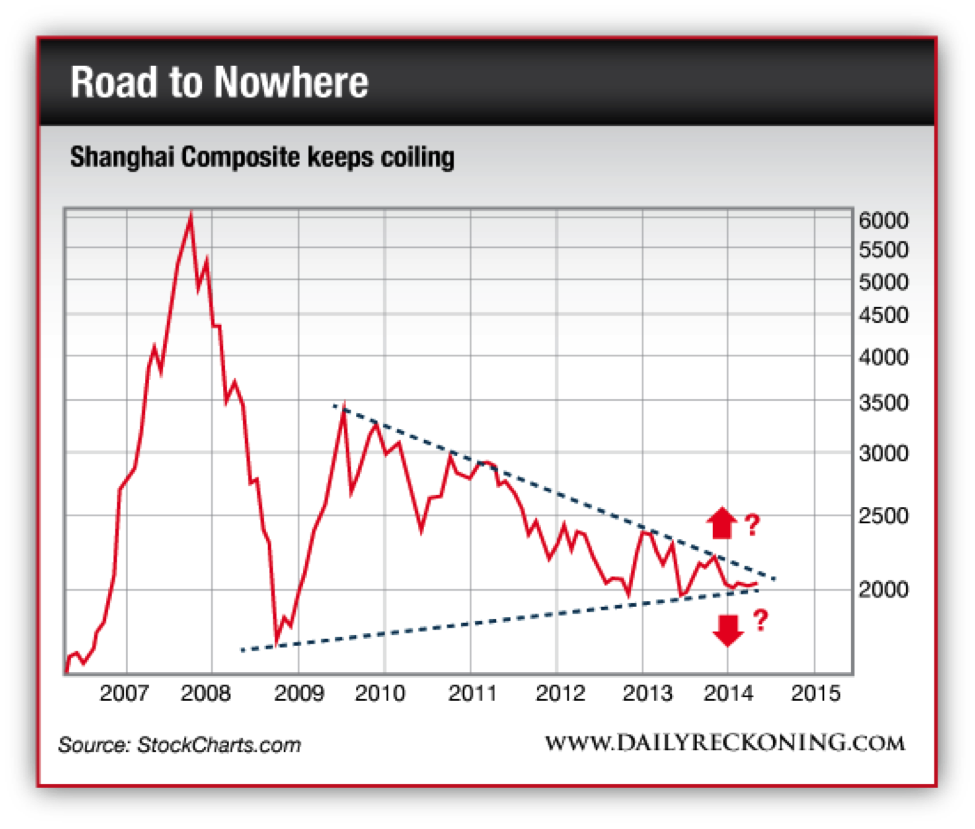 Something had to give. And it did. So where are we today? Glad you asked…
"Buyers are already stepping in," I wrote back in November. "And it's time for you to ride this new wave in Chinese stocks before the rest of the world takes notice."
And boy did this thing take off…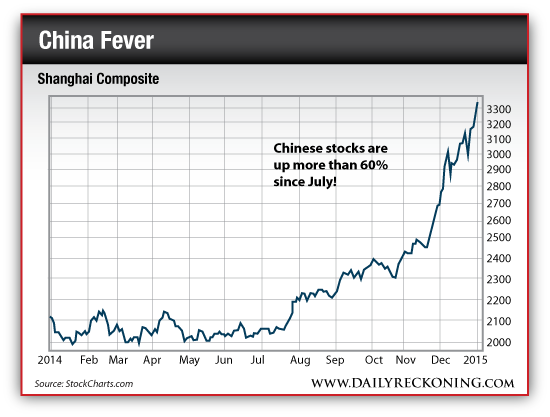 No, that's not a misprint. The Shanghai Composite is up 60% since July. The levee has broken. And there's no going back…
So, the best performing asset class of 2014? Yep, you guessed it. After a ridiculous end-of-year rally, China wins the gold. I'd pat myself on the back, but there's more to this developing story…
As Business Insider reports, "Financial stocks in China are surging relative to the broad market, which began back in November when the People's Bank of China cut policy rates for the first time since 2012." But that rate cut is just part of the reason we're witnessing such an incredible move in Chinese stocks. The other is what I'm calling the "Shanghai Surprise." (Remember the movie with that title starring Madonna? Good, you shouldn't).
In November, China opened its exchanges in Shanghai and Shenzhen – just opposite Hong Kong– to the world. The new "Shanghai-Hong Kong Stock Connect" program gives regular investors a shot at mainland Chinese stocks.
This new China connection, coupled with rock-bottom sentiment and some downright terrible economic data, has sparked what is beginning to look like the strongest contrarian trade we've seen in years. And remember, we're not contrarian simply for the sake of being contrarian. We're only contrarian when there's a good reason to be so. Like now.
And look, this move is just getting started…
There's an old Chinese saying: "He who laughs last, laughs best." Actually, I don't even think it's Chinese. But I don't care. By the end of the year, I plan to laugh my ass off at a bunch of analysts who thought I was nuts for proposing this trade.
Regards,
Greg Guenthner

for The Daily Reckoning
P.S. By the end of the year, I plan to laugh my ass off at a bunch of analysts who thought I was nuts for proposing this trade. If you want to cash in on the biggest profits this market has to offer, sign up for my Rude Awakening e-letter, for FREE, right here. Stop missing out. Click here now to sign up for FREE.