Toxic Tech Stocks: Sell Amazon. Sell Google.
What the #$@& is going on with big tech stocks?
Last January, Amazon was trading above $400. Right now, it's sitting at around $290. Last February, the Big "G" rang the bell at $610. And today? $497.
Look, we're not talking about some fly-by-night garbage stocks here. These are legit, household names that investors are kicking down the stairs.
And remember, the stock market tallied record highs last year. Something's wrong…
Well, today, I'm going to show you why only someone stuck in a coma since 2013 would want to own these two has-been tech stocks right now.
Take a look for yourself…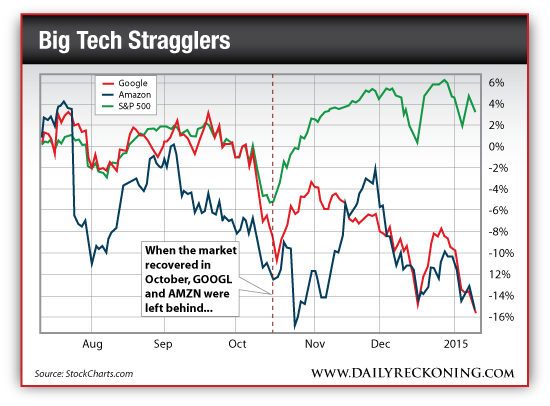 What a mess. This breakdown isn't news to us, though. We ripped Amazon apart toward the end of October when it fell below $300 (as I said, it's back below $300 again after a relief rally failed).
Google didn't escape our wrath, either. Back on Dec. 17, we showed you the cracks forming in its chart. Oh, and it's down almost 5% since then, by the way. Hey, I'm just sayin'…
As I wrote just a few weeks ago, "These are the go-to trades that have held up all year long. These aren't no-name stocks you're seeing drop more than 10% from their highs last month. These are the cream of the crop. Well, maybe I should say 'were'…"
Let me say it now – you shouldn't even think of buying either of these falling knives right now. Otherwise, you'd be violating the Rude trading commandment affectionately known as the "One Dumb Mistake That's Crushing Your Investments." [Note: I'll have these up and running online for you soon, don't worry.]
I've warned you against simply buying "good" stocks because they're trading lower. Sure, I understand you're looking for value. You think these tech stocks are about to rebound — but, they usually don't.
I also showed you the technical signs to look for before you punch the buy button. Unfortunately, we're not seeing any of these signs with Google or Amazon right now.
As far as I'm concerned, both Google and Amazon shares are toxic until their charts start showing signs of life — instead of new 52-week lows. And if you won shares, you better get out faster than George Costanza in a kitchen fire once the smart money starts rushing out the door. In simple English: get out – now.
Regards,
Greg Guenthner

for The Daily Reckoning
P.S. If you want to avoid dud stocks and cash in on the biggest profits this market has to offer, sign up for my Rude Awakening e-letter, for FREE, right here. Stop missing out. Click here now to sign up for FREE.