TRADERS BEWARE: The Shorts are Out for Blood
The bulls have been bashing their heads in for years…
But now the short sellers are salivating as the stock market rolls over on its back like a broke hooker…
Stocks are taking a pounding this week, and it's gettin' ugg-lee out there. But there's a way you can actually survive the first month of 2015 by avoiding the worst of it. I'll explain how in just a minute…
First, a little background:
In early November, you learned how to book fast gains by buying heavily shorted stocks. The play is called a "short-squeeze"—and they can be extremely profitable.
Here's the quick-and-dirty of how it works: you can profit from a short squeeze when traders who are betting against a stock have to buy to close out their positions, pushing prices up very quickly (click here to read about this strategy in more detail).
And last year, shorts came up snake eyes. Every market dip was just a head fake. And nearly every juicy looking short led to a massive squeeze-play that hammered these doubters.
But not anymore…
Ever since stocks started showing cracks in October, many investors began betting against stocks by piling into short positions. They're looking to capitalize on any big market downswings. And unless you've been living under a rock lately (or under your desk), you know stocks have been dancing on the edge of a cliff.
So the stocks with a ton of short interest (ie: people betting against them) aren't squeezing higher during rallies. There aren't enough investors taking the opposite side of the bet. The trend started near the end of 2014. And it appears to be continuing…
"Although it might be a new year, one trend that hasn't changed is in the performance of the most heavily shorted stocks in the S&P 1500; they are still getting creamed," reports Bespoke Investment Group. "So far this year, only nine of the 34 most heavily shorted stocks in the S&P 1500 are up.  On the downside, there are 25 stocks that are down so far this year and of those eight are down more than 10%."
No short-squeezes in sight. The shorts are winning the day.
Obviously, many of these short sellers are feasting on oil stocks these days. But there are other familiar names you should avoid.
Take a look: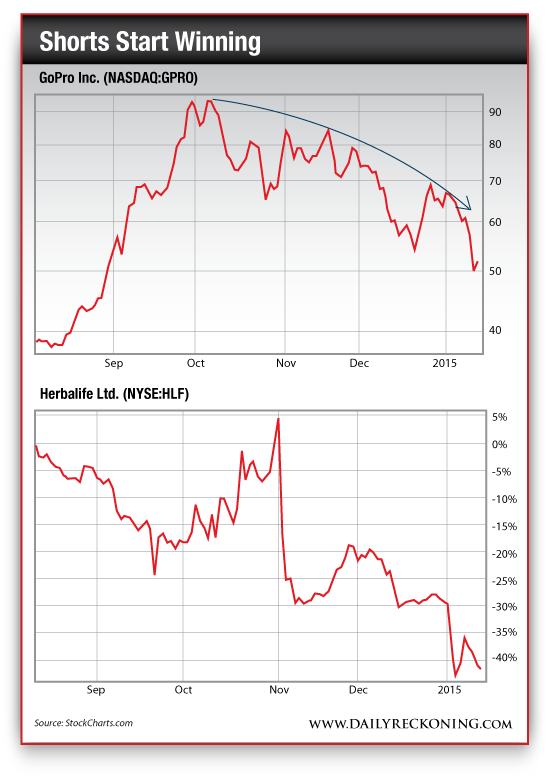 Camera-on-a-stick sensation GoPro Inc. (NASDAQ:GPRO) continues to tumble from its highs this month. And embattled nutritional product marketer Herbalife (NYSE:HLF) is down more than 40% over the past six months. Both of these stocks still have a ton of short-sellers betting against their shares…
Now's not the time to try and buy any of these heavily shorted names. Don't do it. It'll turn your brokerage account into one big, sucking chest wound.
The squeeze trade is dead. It's time to batten down the hatches and ride out the storm with the trends that are safe and outperforming the market.
Regards,
Greg Guenthner
for The Daily Reckoning
P.S. With these longer-term trends, you can add to your positions when the market offers the opportunity. This is one of those times. Don't waste it If you want to cash in on the biggest profits this market has to offer, sign up for my Rude Awakening e-letter, for FREE, right here. Stop missing out. Click here now to sign up for FREE.