GoPro Is a No-Go: 2015's Worst Stock So Far
My friends love GoPro (NASDAQ: GPRO).
If you haven't heard about this new player in the tech world, it's a go-anywhere camera maker.
GoPros are the cameras people can attach to their helmets or sport equipment to get wild, in-the-moment action videos.
I have a friend who wears one when he cycles so he can document when a driver runs him off the road.
Everyone's buying these cameras.
But don't make the rookie mistake of buying a company just because you like the product.
GoPro's a no-go on the investment side.
As I walked around Consumer Electronics Show last week, I got the distinct feeling Go-Pro could be in trouble.
Stephen Petranek, editor of Breakthrough Technology Alert, uses a GoPro 3 and says:
"It's a very faddish kind of toy. After you use it a few times, it ends up in a drawer. But I still like to put it close to the road on my car or close to the waterline on my boat.
"Sometimes, I haul it up the mast.
"It's fun to put one on the belly of a small plane to record where you've flown, and it gives you a view of your landings that's helpful at times.
"On the quad copter, it will send back images by Bluetooth technology to my iPad mini. I can see myself in real-time."
Stephen has mixed feelings about the utility of his GoPro and thinks they are pricey, but he says there are a few reasons he'd tend to pick one over the competition's offerings:
"1. They have excellent frames per second and resolution — true HD video.
"2. The mountings are phenomenal. You can get a GoPro mounting that will attach to anything.
"3. The camera is tough. I've run into trees with it, dropped it, run over it with a bicycle.
"4. And finally, nothing out there is quite as tiny as the GoPro."
At first blush, GoPro seems to have a lot going for it.
It has a hot high-quality product everybody loves, and there's plenty of room for the market in wearable cameras, if not wearable electronics of all kinds, to grow.
Wall Street loves the GoPro story. Shares soared by 200% in the first three months after its IPO last year.
But Wall Street's missing something important.
GoPro has a downside, and I saw it clearly at CES: GoPro's products aren't protected by extensive intellectual property.
GoPro's camera isn't even made by GoPro. It's made by Ambarella (NASDAQ: AMBA), and Ambarella can not only sell the same tech to anyone else, it does. A company called E-Prance uses the Ambarella camera to make an automobile dashboard camera.
Competitors are showing up in force.
Which brings me to what I saw at CES last week — a plethora of wearable cameras from other companies eager to enter GoPro's market. There were models displayed by companies you've never heard of and ones by giants you have, like Sony, Panasonic and Hewlett-Packard. Video quality and frame rates are excellent. There are even wearable cameras with 360-degree recording capabilities — in 4K HD video.
GoPro has been able to charge a premium for its products, but prices have been coming down. Target sells the GoPro Hero3 for $199, about half of what many people have paid for them.
I look at these cameras and I see a killer word — commodity.
That's bad news for GoPro investors.
Chris Mayer, editor of Mayer's Special Situations, called GoPro a bad stock.
In his words…
"What is GoPro?
"In case you missed it, this company makes cameras you can basically mount on your forehead that allow you to take videos while you're riding a bike, surfing or jumping out of an airplane. Here is the founder, Nick Woodman, wearing his idea: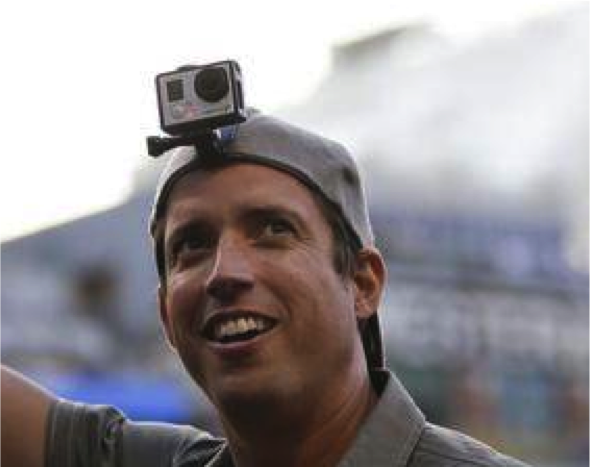 "People in the future will look at that picture and marvel at the stupidity of our culture. And Nick is a rich man for coming up with this idea.
"Maybe I'm being too harsh. Maybe they make great cameras. Whatever. GoPro is not worth 10 times sales. (See, there is this thing called competition…)"
If you want to keep your money, stay away from GoPro stock.
There's a downside to investing in companies like GoPro: No barriers to entry for competitors. Before you buy your next tech stock, check out the business model. Are there barriers to entry?
This is a factor every tech investor should consider before parking her hard-earned cash into it.
GPRO shares have lost nearly 40% from their peak last year, but there's plenty more room for them to fall further.
And if you're interested in buying some of GoPro's previous models, like the original Hero and the Hero3, wait a bit.
Prices will fall.
Until then, remember…
GoPro is a no-go.
To a bright future,