Buy Transportation Stocks to Take Advantage of the Oil Collapse
Hey greenie, how's that Prius working out for ya?
Sure, it may have made some sense to overpay for the damn thing when gas was over four bucks a gallon. But now gas is assaulting the two-dollar mark 'round these parts— and it could go lower. Seemed like a good idea at the time, though, right?
But don't worry, I've got good news for you. I'm about to show you how rock-bottom gas prices can make you a bunch of real green.
And if you're an SUV-driving gasaholic with a carbon footprint rivaling Bigfoot, relax. You can also bank gains on this trend. Anyone can.
OK, so here's the deal: Oil isn't going to magically jump back to $100 anytime soon. Ain't happenin'. Someone should tell Al Gore that realistically, we could see prices fluctuate around $50 for the foreseeable future. Bad news for that bozo and his dream of sky-high gas prices to help reduce global warming. But again, good news for you…
See, low gas prices means industries weighed down by higher prices just had a huge present dropped in their laps. Their operating costs just went way down, which will allow them to turn much higher profits. Higher profits can lead to higher stock prices. And higher stock prices mean bigger gains for you.
Almost every industry that uses a lot of fuel is soaring right now. The Dow Jones Transportation Average is up a solid 15% since October. And airline stocks are jetting toward 52-week highs.
But there's one company in particular that's going to make out like a bandit from lower fuel prices…
I'm talking about United Parcel Service Inc. (NYSE:UPS)
UPS is obsessed with cutting fuel costs. But when you're running a fleet of trucks as big as UPS, the savings add up. Since 2004, UPS estimates it's saved 10 million gallons of gasoline. You know how? By limiting the left-hand turns its drivers make…
You know how long it can take to make a left-hand turn against traffic, right? Well, all that idling wastes gas. So UPS drivers are instructed to go around the block or find alternate routes to their destination whenever possible, saving time and gas. With gas prices as high as they've been over the past ten years, that's some serious savings. I know it sounds crazy, but that's how committed UPS is to lowering fuel costs.
So just imagine how much money the company is saving now that the price of oil has plummeted…and how much its stock price could increase as those savings work wonders on the bottom line…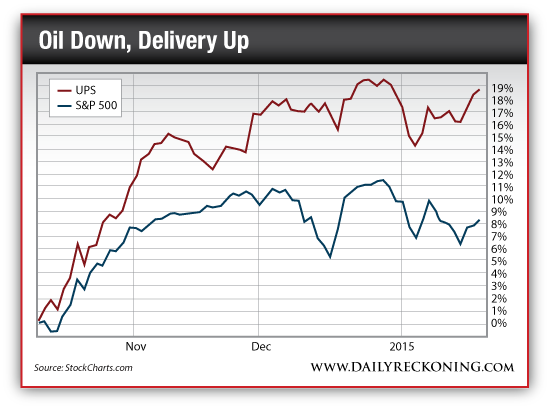 UPS has spiked more than 18% since the October bottom—while the S&P 500 has eeked out an 8% gain.
UPS is sporting a whopper of a chart right now—and it looks like it might just be finished consolidating its gains from November and December. This stock is primed for another run higher…
Regards,
Greg Guenthner

for The Daily Reckoning
P.S. Even if you're an SUV-driving gasaholic with a carbon footprint rivaling Bigfoot, you can also bank gains on this trend. Anyone can. If you want to cash in on the biggest profits this market has to offer, sign up for my Rude Awakening e-letter, for FREE, right here. Stop missing out. Click here now to sign up for FREE.