Here's How to Get Out of a Horrible Trade
Do you know what to do when the stock market sucker punches you right in the mug – like it did last week?
No? Then stay tuned, my friend. Because this morning, I'm going to stitch you up and get you (and your portfolio) right back on your feet. I'm going to show you the rule you must follow to avoid disaster in just a moment…
Alright, so, in case you haven't been paying attention, over the past few days we had a good trade burst into flames. I said that UPS (yes, that UPS) was a strong buy on Thursday.
This terrible trade started off just fine. The idea was simple – we knew that oil probably wasn't going to snap back to $100-plus anytime soon. That meant companies like UPS that use a lot of fuel were in for windfall profits. And the mother-luvin' stock even showed us a picture-perfect breakout to new highs. Everything was going swimmingly…
And in fact, our hypothesis was already being confirmed—stocks prices were beginning to reflect higher expectations for oil-dependent companies. The Dow Jones Transportation Average is up 15% since October. Heck, even the bowser airline stocks are soaring.
Oh yes…then there's United Parcel Service Inc. (NYSE:UPS). After a breakout on Thursday, the stock was drawn and quartered Friday after the company told investors that 2014 earnings would miss the mark. See, they encountered some "productivity issues" – meaning they hired way too many seasonal workers to handle the Christmas rush. Now, they have to pay for their mistakes. Or I should say, you have to pay for their mistakes…
Shares dropped almost 10% on Friday. Talk about ending the week on a low note…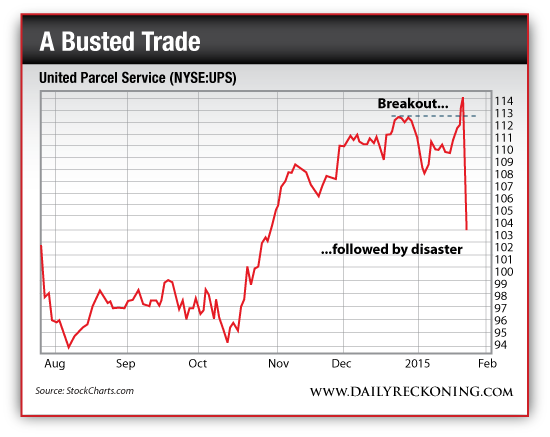 Now, I'm the one taking the heat. OK, so fire away…
"Your downside risk estimate yesterday was pegged at 4%," writes a concerned reader. "But UPS dropped like a rock overnight. How do you figure the downside risk? Any way to avoid that, or is that just showbiz?"
Our risk estimates aren't just "showbiz". I'm on the charts like orange on oranges to make sure all of our trades are low risk/high reward. But finding support on a chart is one thing. Lurking in the shadows are millions of events beyond our control that can make fools of us. The gods aren't always kind…
An asteroid strike, terrorist attack, extreme weather, riots, the Patriots following NFL rules– or earnings estimates that completely miss the goalposts– are all events that can "shock" the price of stocks. Dems is the breaks, as they say.
We're able to dodge most of these little disasters. But every once in a while, we're caught on the horse's end of a trade– like with UPS. It's just part of the game.
OK, so there are two things you can do when this happens to you:
Fight it
Refuse to back down and try to fight the trade. Ignore your stop loss, take the news personally, and batten down the hatches. Do not listen to reason. Only read research that agrees with your original thesis. This trade will bounce back! It's only a matter of time…
Or…
Stick to your trading plan
Accept that losing the occasional trade is part of the process. Sometimes, a stock will force you to sell sooner than you expected for a much lower price that you originally anticipated. But you know how the process works and that you'll have more winners than losers when all is said and done. You understand the need to separate short-term trades from long-term investments before buying any stock. And the importance of never letting one become the other.
So…do I really need to tell you which is the correct choice?
Don't let this terrible UPS trade turn into an even worse investment. Just bite the bullet and sell. Blame me and my analysis if it makes you feel better. I'm a big boy—I can handle it.
Just be sure to follow your trading plan. If you don't follow a strict plan, you'll never make it as a trader – and you can take that to the bank.
Regards,
Greg Guenthner
for The Daily Reckoning
P.S. If you don't follow a strict plan, you'll never make it as a trader – and you can take that to the bank. If you want to cash in on the biggest profits this market has to offer, sign up for my Rude Awakening e-letter, for FREE, right here. Stop missing out. Click here now to sign up for FREE.