How to Make 20% from the Resurrection Car Manufacturers
Today we're getting back on the beam with a story cruising beneath just about everyone's radar. And it involves a classic American industry…
We're betting on car makers.
Before you try to have my butt hauled off to Bellevue, hear me out for a sec…
Auto makers are coming back. It's true. They're seeing the light at the end of the tunnel after years of slumping sales. And their stock is turning the corner, too. In fact, you could net quick, double-digit gains if you turn the key now. Don't believe me?
Then take a look at the numbers…
According to TrueCar, a leading automotive pricing and information website, annualized auto sales for January are projected to increase 13% over last year. That's no fluke, my friend. And even though most analysts have been asleep at the wheel when it comes to this trend, the industry actually grew in 2014. Meanwhile, sales volume is increasing, and rising average car prices are telling us that demand is picking up…
"With solid economic expansion under way and consumer-friendly gasoline prices, the auto industry remains a high-growth sector," said TrueCar's Eric Lyman.
High growth sectors? Cars? When's the last time you heard those two things mentioned together? But the numbers don't lie. Oh yeah, then there are gas prices. The national average gas price is flirting with $2—lowest since 2009. Do you think folks are sweating their fuel economy now? Hell no…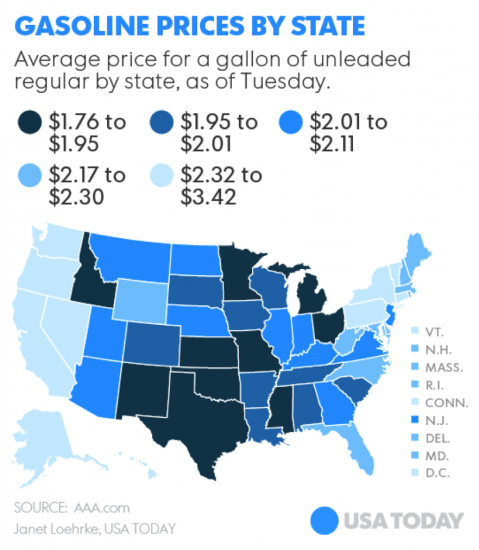 There's no doubt lower gas prices are partially driving this story. It's almost impossible to avoid the cheap oil theme these days. And there's no need to fight it, either. Just fire up that good 'ole 454 Big-Block V8 and enjoy the ride, man…
We're looking at the best January in eight years for the auto industry—and that's without any performance-increasing fuel injection from our friend Uncle Sam. Nope, they're doing it all themselves.
The future looks bright for the auto makers. Hop onboard this developing trend today…
Regards,
Greg Guenthner

for The Daily Reckoning
P.S. We have the chance to get into a trade that's not overextended. You don't have to chase this stock higher–the trade is coming to you. If you want to cash in on the biggest profits this market has to offer, sign up for my Rude Awakening e-letter, for FREE, right here. Stop missing out. Click here now to sign up for FREE.