Buy Small-Cap Stocks to Avoid the "Rotating Blades of Death"
Fish yourself a Dow stock out of the earnings pond.
Go ahead—grab your rod and reel one in.
Now ask yourself this question: Will it blend?
The answer, of course, is yes. Forget scaling it, removing its tail, head and bones—that bass will blend into a perfectly grotesque liquid. Unfortunately, investors have to drink it…
Get the picture?
These fish are the Dow Jones components just before 4th quarter earnings came out…
Guess what happens next?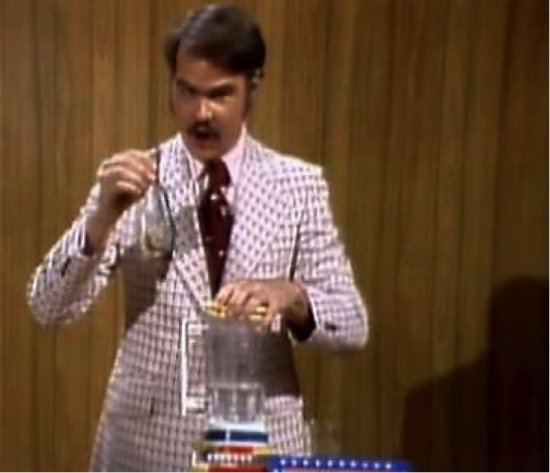 Thirsty yet?
It's earnings season again. And fourth quarter earnings have flat-out sucked so far. Excuse my French, but there's no other way to put it. The market is slicing the poor earners to bits…
Caterpillar and Procter & Gamble just released disappointing earnings forecasts for the year. P&G dropped more than 3% on the day. Caterpillar wasn't so lucky. It cratered more than 7%.
But wait—there's more!
Microsoft plummeted more than 9% on the day thanks to a whopping four downgrades after its underwhelming earnings announcement. No – that's not a typo. Even this one-time king of the tech stocks fell straight into the rotating blades of death.
Here's another fun fact: Out of the 30 Dow stocks, just one—United Technologies—escaped the flying bits of gore. It gained a mouth-watering 41 cents on the day. When the blades stopped turning, the Dow lost nearly 300 points to begin the week.
But before you run off into the woods with your gold hoard and survival kit, there's something you need to understand: While the Dow fell into the spinning blades, another group of stocks managed to stay in one piece.
As a trader, that's what you need to be looking for on days like Monday. When the market starts falling apart, there's usually one group of stocks, one sector, or one industry that avoids the carnage. That's a huge tell. When the big money is buying on a bad day, you know you're probably onto something…
And that's exactly what's happening with small-cap stocks right now.
The big boys have had their fun. Now, small stocks are in the early stages of jumping out in front. The Russell is simply crushing the S&P since October 13th – the week stocks bottomed out. And over the past couple of weeks, we've seen more of the same from these little engines that could…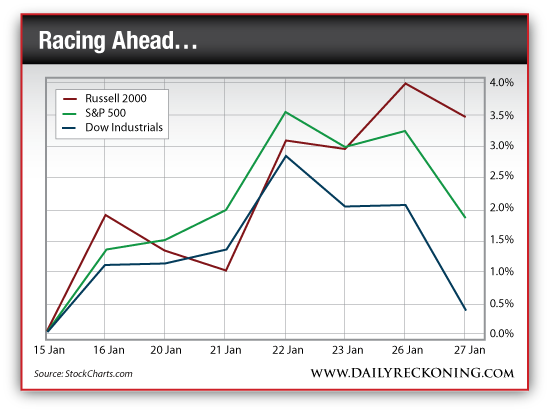 "That's a sign of a healthy bull market," I told you earlier this year. "You want to see the small companies–considered much more speculative investments–outperforming the big kids. Investors who are willing to take more risk leads to rising prices. That's what's been building over the past three months."
So start thinking small. And stay away from blenders.
Regards,
Greg Guenthner
for The Daily Reckoning
P.S. This trade rings two bells. It's the perfect way to protect your trading portfolio right now–while booking solid gains at the same time.  If you want to cash in on the biggest profits this market has to offer, sign up for my Rude Awakening e-letter, for FREE, right here. Stop missing out. Click here now to sign up for FREE.