Take a "Hack" At Cybersecurity Stocks for 20% Gains
Dude, your computer's been hacked!
Your social security number's all over the net. So is all your banking and credit card information. Some slob holed up in his parent's basement munching Cheeze-Its is already downloading porn with it.
Oh yeah, and those steamy e-mails between you and that hottie in accounting? They're sitting in your boss' inbox– and your wife's.
OK…so none of that happened. At least, I hope not. Otherwise you're friggin' screwed. But you know what? It could…
Welcome to 2015, buddy. It's not just about leaked celebrity selfies anymore. Social Security numbers, private emails, business secrets and banking details are all on the line. And no company wants to be the next to have its reputation dragged through the mud by some ragtag hacker out for a quick payday.
That's why you're looking at 20% gains over the next few months if you jump aboard the cybersecurity bus now. I'll show you how in a minute…
Sony's recent hacking incident with The Interview is only part of the reason I believe the cybersecurity industry is on the verge of a breakout year. Target and Home Depot also suffered embarrassing incidents recently. The demand is enormous—companies just can't ignore the dangers of data breaches any more.
As long as the attacks on privacy and data continue, spending on cybersecurity will continue to march higher as businesses and governments look to stay one step ahead of hackers."
But amazingly, cybersecurity stocks are orphans these days. No one seems to want them.
In fact, many of the red-hot cybersecurity IPOs have fizzled. Look no further than FireEye Inc. (NASDAQ:FEYE). After its painful drop in early 2014, this cybersecurity firm has watched its shares founder for months…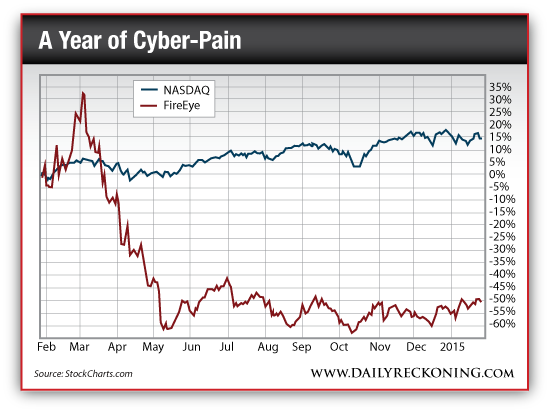 Sure, FEYE stock might be down – but it's hardly out. In fact, FEYE (and several other stocks involved in the cybersecurity industry) is getting frisky right now. Just look at the chart. FEYE bottomed out back in May—and has been stuck in that range ever since. If it can poke its head a just a tad higher from here, it has a shot at a legit comeback.
And there are other names in the industry that are quietly humming back to life. Juniper Networks (NYSE:JNPR) jumped more than 5% yesterday morning when it announced its sales topped estimates.
Over the next few months, I think select cybersecurity stocks could easily return you a tidy 20% gain—maybe more if Mr. Market cooperates and these stocks can get it in gear.
Regards,
Greg Guenthner
for The Daily Reckoning
P.S. As long as the attacks on privacy and data continue, spending on cybersecurity will continue to march higher. If you want to cash in on the biggest profits this market has to offer, sign up for my Rude Awakening e-letter, for FREE, right here. Stop missing out. Click here now to sign up for FREE.