The Market's An Emotional Wreck –Now What?
The stock market's got a nasty case of PMS.
And there's nothing worse than an erratic market with violent mood swings – up a few hundred points one day and down two hundred the next. That just makes it so damn hard to trade. You try spotting a trend when your charts are babbling gibberish out of both sides of their mouths. So I'm in a rotten mood today.
The only thing helping to brighten my day is that commodities are looking a hell of a lot worse than stocks right now. That's right– the really bad charts belong to commodities. Let's get to yesterday's scorecard, shall we?
Gold: down $30. Silver: down 7%… on the day. Platinum and palladium: both down 2%. Copper: trading at prices last seen in 2009.
Why does the commodity implosion make me a little less depressed this week? Because my trades don't look like this: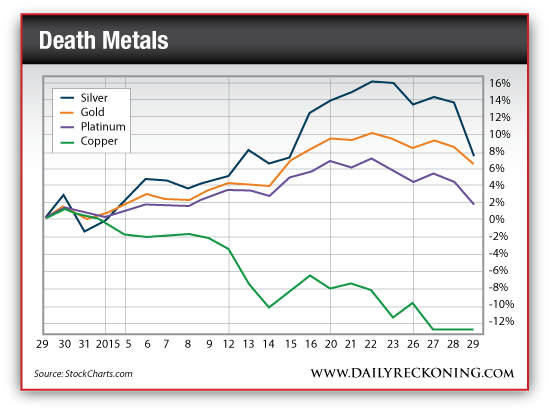 As I told you back in December, you'll see more lows, more bearish headlines–and more ways to make money as the Great Unraveling continues.
What's the Great Unraveling, you ask?
Well, it's not the oil crash. Or the weakness we're seeing in silver right now. It's a bigger problem. I believe we're seeing the end of the commodity "super cycle" that began about 15 years ago.
"I'm more convinced than ever that commodities are in the 'rinse' part of the cycle," I explained last month. "And if you don't grasp that basic fact, you could lose your shirt if you have a lot of exposure to them. Whatever the culprit– whether it's slowing growth in China, India, or other emerging markets– the writing is on the wall. The Great Unraveling is upon us…"
The mighty metals are on life support. Call Kevorkian. Oh wait, you can't – he's dead. Doesn't matter. Point is, it's taps for these guys…
Remember, the great commodity boom took more than a decade to play out. Prices skyrocketed across the board. But what goes up must eventually come down. Gold and silver lost their wings in 2013. Copper went into a death spiral late last year. And I don't have to tell you what's happened with oil over the past six months…
Despite these horrific charts and some steep losses for investors, some of the top questions I'm getting these days always come back to commodities. That's right—everyone wants to try to catch the falling knives.
Is it time to buy oil yet?
Should I take a chance on it?
No. Absolutely not. Unless you're a daytrader or a very, very short-term minded swing trader looking to play a quick mean reversion, you should back off all of these falling knives.
Remember our rules about "buying the dips." Just because a stock has dropped does NOT mean it's putting in a buyable dip. So when you're looking to buy a dip, don't go chasing after a stock with a chart that looks like a train wreck. That'll just put you on the fast track to trading hell.
Regards,
Greg Guenthner
for The Daily Reckoning
P.S. The market's got hormonal issues right now, but we have plenty of open trades that are working in our favor. If you want to cash in on the biggest profits this market has to offer, sign up for my Rude Awakening e-letter, for FREE, right here. Stop missing out. Click here now to sign up for FREE.