Strategy Session: How to Trade in a Stock Market Minefield
Extreme volatility is turning the market into an endless minefield. One wrong step and "Ka-boom!"
According to the Wall Street Journal, the S&P 500 has averaged daily swings of 1.5% so far this year. That's bizarro world. It also puts 2015 on track to be the most volatile year since 2011. In case your memory is slipping, that's the same year the eurozone crisis ambushed the market.
So for today's strategy session, I'm going to show you how you can safely trade this unstable market without losing any limbs or what's left of your sanity.
Let's start with what we know…
January is dead. Good riddance.
With the first month of 2015 in the can, stocks are slipping again after a dreadful close on Friday. Thanks to another last-day, 1%-plus drop in the major averages, we're solidly in the red as February begins. The S&P 500 is down more than 3% year-to-date. The Dow is down about 3.7% on the year. But on the brighter side, thanks to Apple's strong performance and red-hot biotech stocks, the Nasdaq is only off by 2.1% to start the year. Joy!
There's an old market adage that says "As goes January, so goes the year." Well, if that old saw holds up, we could be in for one hell of a ride. According to the January Barometer, 2015 will be a bust for stocks. Now, it's good to keep that adage is in mind—but it ain't exactly written in stone. And you don't have to go to far back in time to prove it…
Last year, the S&P dropped more than 3.5% in January. But it jumped 15% February – December to close the year on a positive note.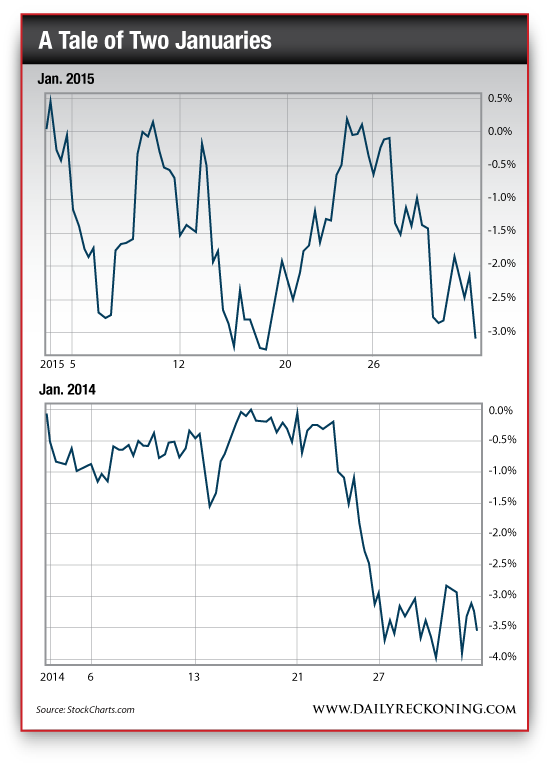 So here we are—chopping along… and watching trading accounts get hacked to bits.
There is no shortage of problems for the worrywarts of the world to dwell on today. We have an oil crash, Greece gumming up the eurozone works again, and– last I checked—about a million and one opinions on what the Fed will do with interest rates this year. That's enough to keep the market in flux for the time being.
But we can't say at this point how the market will behave the rest of the year. Just can't do it.
So, how can you make money during the confusion?
Simple. All you have to do is slow down. Don't feel like you have to always be doing something. There's no use in going for the quick-hit swing trades in this market environment. You'll just get skewered.
As legendary trader Jesse Livermore said, "The desire for constant action irrespective of underlying conditions is responsible for many losses in Wall Street even among the professionals." He also said "Buy right, sit tight."
Bingo. That's why this is the time to go for the big-picture, longer-term trades.
Look, you can't take the fight to the market every round. Sometimes the market's going to take the fight to you. So you just have to stand against the ropes and let it swing away. Play rope-a-dope, like Mohammad Ali used to do. But if you stay on your toes and dance a little, you'll soon find an opening to land a knockout shot.
The most important rule of trading and investing is this: Don't lose money. And the next most important rule is this: Don't lose money. And the third…
That's the one rule I'm determined to hammer into that thick skull of yours today. There will come a time to take on more risk soon enough. But not today.
Regards,
Greg Guenthner

for The Daily Reckoning
P.S. The most important rule of trading and investing is this: Don't lose money. If you want to cash in on the biggest profits this market has to offer, sign up for my Rude Awakening e-letter, for FREE, right here. Stop missing out. Click here now to sign up for FREE.