Head "South of the Border" for a Cool 40% Gain
"Hi, can I have a super-size Big Mac combo meal, please?"
"OK, sir, that'll be one selfie and two hugs. Drive around to the next window, please."
Huh?
Yeah, well, starting this week, McDonalds is accepting a new form of payment.
No, it's not bitcoin, kids. I'm talking about some kind of marketing stunt here…
In a sickeningly sweet Super Bowl ad, McDonalds claims it will "let some customers pay for their food with different forms of what McDonald' s calls 'lovin', which could include selfies and hugs," explains Business Insider.
Appropriately enough, this gimmick runs until Valentine's Day.
But it won't be enough to turn things around for the fast food giant, and we've got our sights trained on the next "fast food" king…
OK, I admit this lovey-dovey McDonald's campaign made me nearly toss my nachos—and not just because of how ridiculous and sappy it is. If you've been paying attention over the past year, you know I've been grilling Mickey D's over its terrible performance and absurd business strategy in a world where fresh, organic food is taking the casual dining and fast-food segments by storm.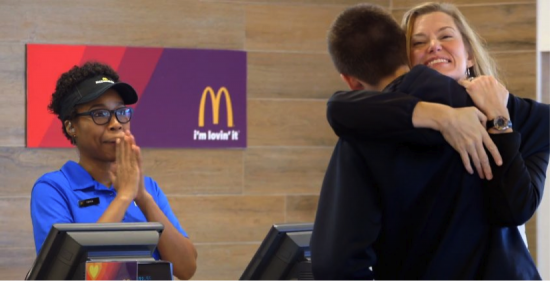 Umm…Mom? Can we please just eat lunch now?
Even the folks at McDonalds have admitted that challenges in their business are "more formidable than expected." Yeah, no kidding.
And it's not just healthy food that's pushing its way into McDonald's turf. A popular little burger stand called Shake Shack (NYSE:SHAK) just IPO'd last week. Before the offering went live, folks were expecting this one to price around $14. But guess what? Shares screamed past $50 when they hit the open market Friday.
That's completely insane, of course (and I don't think you should run out and buy SHAK at these levels). But it goes to show you just how powerful the anti-McDonalds trade is right now.
I don't care that McDonalds has a new CEO now. Or that they have a flashy new ad campaign. Unless new management can somehow completely erase the old-school fast-food stigma, this stock won't ever show investors returns like it did back during its golden age.
Oh, and if you think the lines are too long at Chipotle today, just wait a couple of years. The made-to-order, high-quality, "make-your-own-choice" fast food model is just getting started.
But hey, if you can spare a selfie and a hug or two, you might want to head over to Mickey D's for some free grub.
Regards,
Greg Guenthner

for The Daily Reckoning
P.S. But hey, if you can spare a selfie and a hug or two, you might want to head over to Mickey D's for some free grub. If you want to cash in on the biggest profits this market has to offer, sign up for my Rude Awakening e-letter, for FREE, right here. Stop missing out. Click here now to sign up for FREE.