Biotech Stocks Blasted! Now's the Time to "Buy the Dip"
OK, listen up – it's time to "buy the dip."
I'm talking about the biotech dip that just happened. Here's the deal:
A leading biotech company just issued some news that spooked some jittery investors. The stock took a dive, taking the entire sector down a peg or two.
But this is just a temporary blip, and it's handing you a golden chance to grab your share of the ongoing biotech boom— at Walmart prices.
But first, you need to know just how powerful these biotech stocks have become…
The biotech sector posted 30%-plus gains during the first eight weeks of 2014. And while this was an active trader's paradise, these bad boys got a little too big for their britches. In the spring, the market took them out behind the woodshed for a good ole fashioned whippin'.
But that wasn't the end of this story for biotech. Not by a long shot. We pinpointed the comeback move in June. And wouldn't you know it…just a few weeks after we pulled a Paul Revere with the biotech comeback, these stocks roared back to winning territory.
Here's the chart I showed you on Oct. 27th: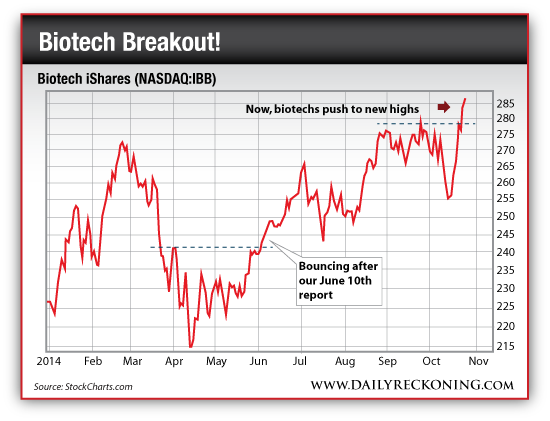 I told you I was backing up the truck for these guys.
"That bright neon sign you're looking at is biotech, flashing, buy me!" I wrote. "This is all you need to know: biotech stocks are on a tear right now. They've shot up a staggering 12% since October 15th. That's an insane move in such a short time. And they've got all kinds of room to run."
And if you listened, you could have booked a cool 10% or more on our Biotech iShares (NASDAQ:IBB) play.
Wanna do it again? Cool. Let's do it…
Now it's 2015. And biotechs are still on the rampage. Feeble market in January? Biotechs don't care. They just kept bulldozing forward. In fact, biotechs were some of the only stocks popping to start the year. Everything else was stuck in the chop—or worse.
And our thesis still holds true – the biotech sector's providing a lot of the muscle pushing the stock market higher.
But you wouldn't know it looking at yesterday's action. Here's what happened:
Traders freaked out over some not-so-fantastic forecasts from Gilead Sciences (NASDAQ:GILD), the world's largest biotechnology firm. Gilead said its 2015 revenue will take a hit due to discounts for its blockbuster hepatitis C drugs, Bloomberg reports.
And man, investors couldn't run for the exits fast enough when the news hit the wire. Gilead stock tanked by as much as 10%, which ended up dragging down the entire biotech sector on the day. However, if you paid attention to the action in the biotech sector after the drop, you probably would have been running to buy shares, not sell…
See, despite Gilead's underwhelming news, the biotech sector still came out smelling like a rose. Just look at the picture-perfect bounce IBB showed us as buyers stepped in later in the day…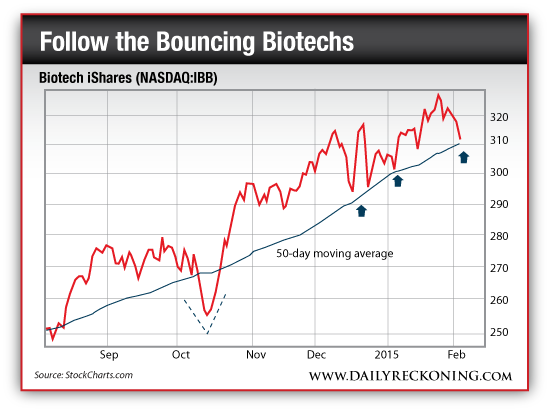 You can frame this chart, it's so good. IBB is once again proving it's a solid longer-term trade. You know how I'm always preaching for you to buy the dips when it comes to longer-term trade ideas? Well, this is one of those moments. Look at the blue arrows. Here we have a strong, uptrending play in IBB that's bouncing at its 50-day moving average. There's your low-risk, buyable bounce.
These stocks survived some harsh pullbacks last year—most notably in the spring and then again in October. But each time, they've sprung back to new highs. Even when the major averages have stalled, the Energizer Bunny biotech trade has kept going and going.
This week, everyone is focused on biotech's worst drop in nearly two months. But while they're nibbling their fingers to the bone, you have a chance to buy IBB here for a rock-solid trade.
Run with it…
Regards,
Greg Guenthner
for The Daily Reckoning
P.S. Even when the major averages have stalled, the Energizer Bunny biotech trade has kept going and going.. If you want to cash in on the biggest profits this market has to offer, sign up for my Rude Awakening e-letter, for FREE, right here. Stop missing out. Click here now to sign up for FREE.