Double Your Money Betting on "The Return of the Herd"
Remember the four major trends of the year I told you about last month?
Good. We're busting one of them out today. And the market is now giving you one of those rare second chances to buy into this surging trend that could double your money by the end of the year…
Best of all, you can make money on this trade no matter what the market does this year – up, down or sideways. How does that strike ya?
Here's the deal: We've seen some stomach-churning action over the past three months. Yet during all of this choppy market action, a few select trades were quietly building steam for a breakout. When the market dove, they stayed out of the red. When stocks finished the day slightly higher, these studs seemed to have springs in their feet…
And today, one of these trades has broken free of the trading range holding it hostage for more than three months. In fact, it's breaking out toward post-financial crisis highs—giving you the shot to grab shares just as momentum is really picking up…
I'm talking about E*Trade Financial Corp. (NASDAQ:ETFC).
Betting on E*Trade is all about our "return of the herd" theme.
"I'm talking about the return of the mom and pop investor," I told you last month. "You know, those shellshocked weekend market warriors who've sat on their hands for the past six years. The ones who vowed they'd never touch another stock after 2008."
Well guess what? They're back. And despite recent market volatility, these newbies are trading once again. They're opening brokerage accounts. They're paying commissions. And the discount brokers that were given up for dead in 2009 just might get it in gear and become one of the best performing sectors on the market this year…
The new numbers are in—and they look fantastic. Trading volume is on the rise. E*Trade even managed to trounce analyst estimates when it announced fourth quarter financials. And remember, it was a dismal quarter for most companies. The firm posted revenue of $461 million last quarter, scorching estimates by nearly $17 million. Put that in your pipe and smoke it. Pretty darn good, especially when you consider these stocks were left for dead more than six years ago.
This doozy of a chart tells you everything you need to know…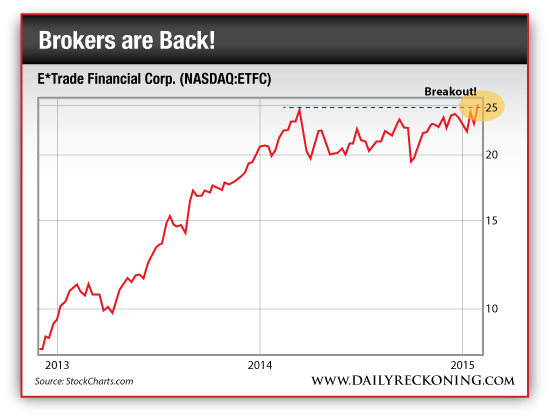 After nearly a year's worth of work, ETFC is exploding through its early 2014 highs this week. We're not even five full weeks into the New Year, and this major trading theme is already spreading its wings.
The last time I wrote to you about E*Trade, I said I thought a breakout like this was in the cards. Well, here it is.
If you've ever dreamed of getting a second crack at big investing decision, this is your shot.
Today, the market is giving you one of these rare second chances to buy into a powerful trend that could double your money by 2016. Don't squander it…
Regards,
Greg Guenthner

for The Daily Reckoning
P.S. Today, the market is giving you one of these rare second chances to buy into a powerful trend that could double your money by 2016. Don't squander it. If you want to cash in on the biggest profits this market has to offer, sign up for my Rude Awakening e-letter, for FREE, right here. Stop missing out. Click here now to sign up for FREE.