The Simple Secret to a Jackpot Trade
How'd you like the secret to hitting jackpot trades before anyone else gets the news?
Thought so. Read on because today I'm giving you the secret on a silver platter…
But before I go on, you have to know that this secret doesn't require any fancy math. You don't have to spend hours digging through complex financial documents, either. In fact, all you have to do is change the way you evaluate stocks and jettison some of those herd-minded "survival instincts" preventing you from beating the market.
Look, most investors have no clue how the market actually works. They get so worked up over gossip, tabloid financial "journalism" and irrelevant data that they literally can't get out of their own way.
But here's the thing…
If you're ever going to making any money in the trading game, you're gonna have to memorize the following statement:
Prices lead the news.
Say it out loud and click your heels three times, Dorothy. It might not take you to Kansas, but it could take you to Easy Street. Maybe you've heard this old saw—or something similar—before. And maybe you don't know what to make of it.
Well, hang onto your pants because I'm here to walk you through it. If you can wrap your mind around it, I can all but guarantee you'll never get caught up in the boneheaded investment blunders that your moron neighbor complains about every time you run into him walking the dog…
Simply put, when you're looking to trade a turnaround play, the numbers will never be perfect. I'm talking about P/E ratios, earnings, debt structures – all those things the "experts" worship. If they were, everyone would be buying, right? Lucky for you, there's a way to jump out in front of the data.
All you have to do is watch the price action in the charts…
Yup, it really can be that simple. Here are the necessary ingredients for a jackpot turnaround trade: A depressed or hated sector, poor financials, and a chart that looks like it might be forming a bottom.
Still not sure what I'm talking about? Let's take a look at a real-world example. This one has 'em all…
Last year, I told you I thought homebuilder stocks were poised for a huge turnaround over the next 18 months.
That call inspired almost as much hate mail as my bearish predictions for gold back in early 2013. Not only did you inform me that I was an idiot—you also couldn't get over the fact that mushy numbers had become the norm in the homebuilding sector.
First-time home buyers sunk to their lowest level in 30 years! Mortgages applications are down! Home prices are still too damn high! Yada, yada, yada. All the "numbers" said I was wrong. And the hate mail kept on rollin' in.
But I was sticking to my guns: price action leads the news. And the charts were telling me that something was brewing with homebuilders that didn't mesh with all the bad, backward-looking news and data out there.
So, back in October— when all the bulls packed what was left of their belongings and headed out of town— magic began showing up in the charts. A rally was ignited—even as the major averages were pulverized. Something was up…and the chart was telegraphing a secret to those who knew how to read it. After nine months of lower prices, homebuilder shares began to sharply rise in as the major averages tanked. That breakout above the highlighted consolidation area was our signal to buy…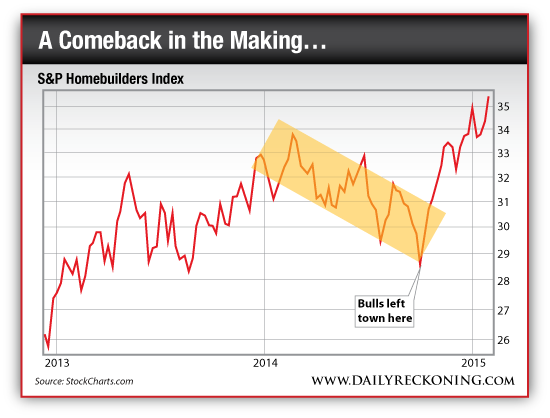 And it worked.
While the S&P is barely clinging to life this year, the homebuilders index is up 15% from its breakout in mid-October—and more than 25% from its 2014 lows. All that backwards-looking data about mortgage applications, home prices and all the rest was just fooling the herd into thinking these stocks were heading for Davy Jones' locker. They weren't. But that's what happens when you don't know how to read the charts. Price action said these suckers were about to jump on a trampoline.
Now that these stocks have rocketed off their lows, suddenly the narrative is changing. Just like magic, the "numbers" are looking a lot more bullish. Prices lead the news. Heck, even Bloomberg is beginning to publish stories about how a huge increase in housing-related employment will be the big surprise this year (I'm not sure how it will be a surprise if we're announcing it to the world in a massive headline. But whatever).
The bottom line is this:
If you're constantly waiting for blue skies and smooth sailing before pulling the trigger on a new trade, you're going to get left behind every time. The "numbers" will never be perfect. But prices – reflected in the charts – will tell you when it's time to buy, even when the data you see in the rear-view mirror is mangled wreckage. The classic breakout in October is one sign, but not the only one. And you'll learn to spot other market signals every Monday in our weekly strategy session. More next week…
Listen, there's a fortunes to be made in these charts. You just have to learn how to read 'em…
Regards,
Greg Guenthner
for The Daily Reckoning
P.S. Listen, there's a fortunes to be made in the charts. You just have to learn how to read 'em…If you want to cash in on the biggest profits this market has to offer, sign up for my Rude Awakening e-letter, for FREE, right here. Stop missing out. Click here now to sign up for FREE.