Here's What's Wrong With Coca-Cola Stock
What does Coke call itself – "The Real Thing?"
What a joke that is, as you're about to see. But today we're also going to look at one stock that could be for real…
OK, so, the health-conscious folks over at Coca-Cola have a new modified milk-product hitting shelves now. It's called Fairlife, and this "milk" product ain't cheap. Why? Well, according to a Coke VP, the milk "has a proprietary milk filtering process that allows you to increase protein by 50 percent, take sugar down by 30 percent, and have no lactose…we'll charge twice as much for it as the milk we used to buy in a jug."
Am I missing something here?
I can't be the only person skeeved out by this stuff. If I want some milk I'm just gonna grab the good ole fashioned kind. And this guy wants us to pay twice as much for it? Hey dude, get bent. Seriously. So why is the company that practically invented cavities jumping into the milk biz?
The main culprit, I'm convinced, is sugar.
Sugar is the No.1 enemy of our increasingly health-crazed society. You can't find any good press about sugar anywhere. And I just read seven articles explaining how bacon is good for me…
"Several studies, including one published last year, have tied added sugar consumption to an increased risk of heart disease, explains the Washington Post. "Sugar has been found to be highly addictive. And Americans, though they are eating less sugar today than they once did, are still eating too much."
I've said it before and I'll say it again: there's no growth in junk food anymore. Coca-Cola is maxed-out. They need to find something that sticks with changing consumer tastes. And management is desperate.
That's not an exaggeration. Have you seen Coke's financial performance lately? After posting disappointing earnings and a cruddy full-year outlook back in October, Coke shares took their worst one-day hit since October 2008. And since Dec. 1, Coke stock is down 8%, while the S&P sits almost at breakeven…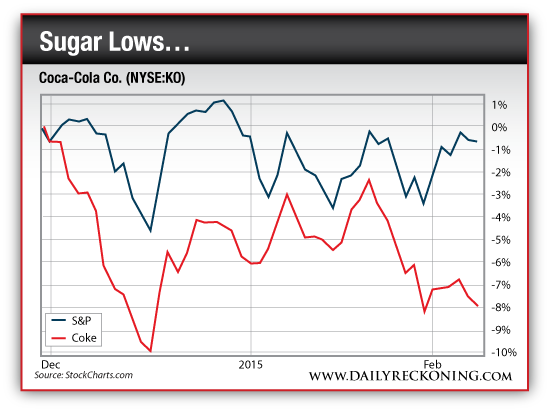 To be clear, I don't believe Coca-Cola is going belly-up any time soon. I mean, the company did just beat earnings estimates this morning. The stock might even catch a bit today, too. So all is not lost…
However, I think Coke's best days might be in the rearview mirror. The one semi-interesting storyline right now is its partnership with Keurig Green Mountain (NASDAQ:GMCR) to develop an at-home beverage machine. But right now, GMCR stock is in worse shape than Coke's… so maybe that's not a road we want to go down yet.
So dump the sugar. And be sure to pick up some Coke franken-milk for the kids next time you're at the store…
Regards,
Greg Guenthner

for The Daily Reckoning
P.S. So dump the sugar. And be sure to pick up some Coke franken-milk for the kids next time you're at the store…If you want to cash in on the biggest profits this market has to offer, sign up for my Rude Awakening e-letter, for FREE, right here. Stop missing out. Click here now to sign up for FREE.