How to Make a Quick 30% from the Demise of "Big Beer"
Alright, Joe Sixpack— it's time to put down that can of Bud and grab a bottle of some handcrafted strawberry rhubarb beer. Or maybe some apricot ale…
That's because microbreweries are overtaking the old-school breweries by churning out specialty beers appealing to the younger generation. And today, you're gonna see how to make a quick 25%-30% gain from this emerging trend…
Of course, Bud tries to poke fun at hipster beer aficionados sipping their fancy microbrew like it's Dom Perignon, 1921.
"Let them sip their pumpkin peach ale, we'll be brewing us some golden suds," Bud gloats in a recent commercial.
That's fine—I get it. They're trying to peddle their mass-produced beer. But here's the thing…
Anheuser-Busch InBev (NYSE:BUD)—Budweiser's parent company–is saying one thing… but doing another.
"Anheuser-Busch InBev has been on a microbrewery buying binge," CNN Money explains. "In 2011, the company bought Chicago-based Goose Island. At the time, former Anheuser-Busch president David Peacock said that the company was 'very committed to expanding in the high end beer segment, and this deal expands our portfolio of brands with high-quality, regional beers.'"
So why is Anheuser-Busch InBev trying to protect its big brands, while scooping up microbreweries at the same time?
Well, management's not stupid. They see the writing on the wall.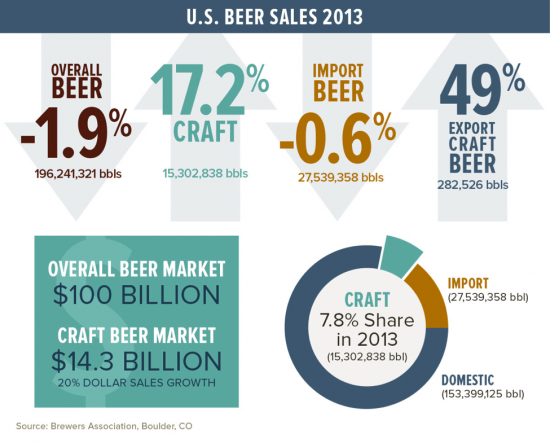 Source: Brewers Association
Microbreweries are taking this $100 billion industry by storm. And these little breweries are sweeping the country right now. According to the Brewers Association, more than 2,800 breweries operated in the U.S. in 2013. That's the highest total since the 1870s–incredible.
Oh, and those traditional domestic "Big Beer" breweries? They're losing all their head…
According to Anheuser-Busch InBev, almost 45% of 21-27 year olds have never even tried a Budweiser. That's right…an ice-cold Bud has never crossed their lips. Man, I remember chugging my first can of Bud when I was – nah, I'd better not say. My mother might be reading. Anyway…
If this story sounds familiar to you, it should. There's s a theme here. I've been bashing McDonalds for the better part of the past year, while at the same time praising upstart "better-fast-food" chains like Chipotle. And I have news for you: Budweiser is the McDonalds of beer. It's running around like a chicken with its head cut off trying to figure out how to compete in a market where tastes are clearly evolving…
But the microbrewers are like Chipotle. They're giving the younger customers what they want—and growing market share at a breakneck pace.
Now don't get me wrong—I don't think BUD is a god-awful stock heading for that great beer vat in the sky. In fact, it's actually trading pretty damn close to its all-time highs right now. The company is scooping up microbreweries here and there, so it's got a plan.
But as far as longer-term plays go, I think you should be searching in the microbrew space—no the macro breweries.
Regards,
Greg Guenthner
for The Daily Reckoning
P.S. As far as trades go, there's one brewery that whets my whistle. What is it? If you want to cash in on the biggest profits this market has to offer, sign up for my Rude Awakening e-letter, for FREE, right here. Stop missing out. Click here now to sign up for FREE.