These "Zombie Stocks" Are Coming for You
The zombie stocks are coming for you.
But don't worry, fella, they're not coming to eat your brain or haul you off to the boneyard. In fact, these left-for-dead stocks can hand you a quick 20% gain if you get in now. So put down the shotgun, and punch up your trading account.
Here's what I'm talking about…
I told you to buy shares of Facebook back in mid-December.
But the stars were against us. So on January 16th, I told my PRO readers to cut bait – right as the major averages were taking a spill. We escaped with a small 4% loss before the market took the "elevator to hell." But listen…
That's why we have stop losses and obey them to the letter. Right?
The market just sucked the life out of Facebook after we bailed—and all the other social media stocks, too.
But as of this week, these suckers are storming back to life. In fact, one of them looks like it's setting up for a fancy trade.
Look, I get my kicks banging on social media stocks. I've done it before—and I'll probably do it again. They have stupid names. And most of them are nickels masquerading as quarters. Like I said back in December, if you're searching for value plays, Yelp isn't making your short list.
But if there's one thing these stocks are good for, it's making a quick buck. And they can take you for a helluva joyride once they find some momentum.
Now, I'll admit, 2014 wasn't a banner year for social media stocks. But here's the thing: it doesn't even matter…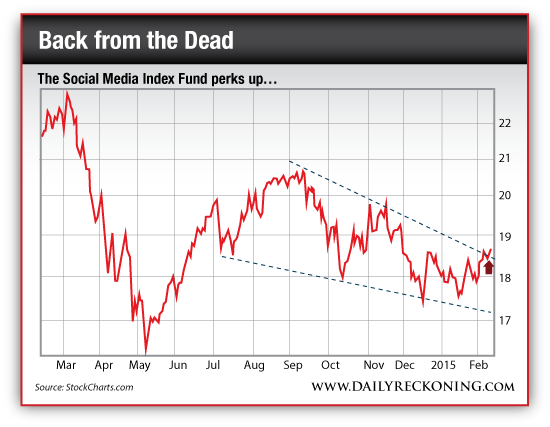 For us to make money, they just have to go from bad…to less bad. And that's what they're doing right now – moving from bad, to less bad. That's why this trade is looking so good…
But look, I don't want you to chuck your greenbacks at any ole all social media zombie. For example…while LinkedIn Corp. (NYSE:LNKD) recently posted new highs, our old friend Yelp Inc. (NYSE:YELP) failed the earnings sniff test and dropped to new 52-week lows.
So you have to be choosy…
Regards,
Greg Guenthner
for The Daily Reckoning
P.S. Who said zombies are all bad? If you want to cash in on the biggest profits this market has to offer, sign up for my Rude Awakening e-letter, for FREE, right here. Stop missing out. Click here now to sign up for FREE.