Look What the Barber Did to Solar Stocks…
Oil's taken a 50% haircut. So, alternative energies like solar got shorn, too.
At the beginning of 2015, the crazy market barber was chasing down every solar stock in town with a pair of shears. No matter where you turned, you saw these guys looking like this…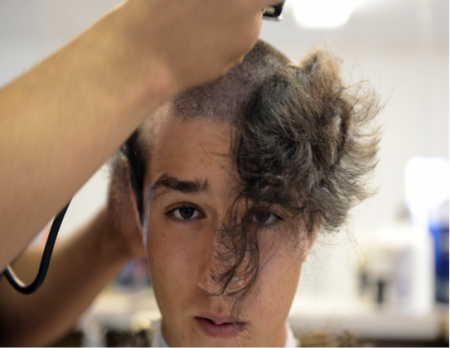 Solar at the start of 2015
Oooph, that's rough. So that means it's curtains for solar, right? Oh come on, you know me better than that…
Against all odds (and the charts) solar stocks aren't looking like Mr. Clean these days. In fact, they're quickly re-growing their hair—and setting up a hell of a trading opportunity for you, too.
And you're looking at a 20% gain in just a few months if you have the stones to pull the trigger today.
I backed off solar at the beginning of 2015 because every finance article that wasn't about the oil crash was about solar power. All these articles talking about how high the demand is getting, how much cheaper it's becoming…you know the drill…I figured they were just attracting more moths to the flame.
And sure enough, solar got its now-famous haircut.
But earlier this month, solar started looking a little less awful. It started slinking higher, while the major averages had a brownout. That was our clue that something big was brewing. And this week, we finally got a full-on breakout. Take a look: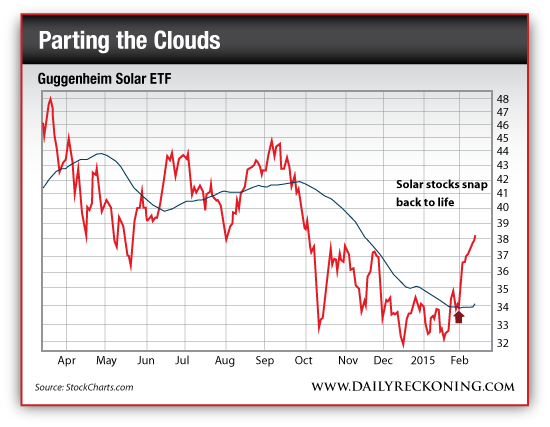 The Guggenheim Solar ETF (NYSE:TAN) is now up 20% since bottoming out last month. That's a new bull market, baby!
So who do we thank for solar getting its hair back? Why, it's gadget-master and tech-stock extraordinaire Apple, of course. Our boys in Cupertino just inked a deal to buy almost $1 billion worth of juice from First Solar Inc. And last time I checked, a billion dollars was a lot of money—even for Apple.
No wonder Reuters said just this week that this Apple deal "could be the first of a stampede of contracts driven by the looming change in a solar tax incentive that makes such projects particularly attractive."
Bingo! Massive tax credits, and greenie street cred to boot? Now that's a sweet deal. More companies will follow Apple's footsteps, like they always do. And it's not like the solar biz had been on hiatus when their stocks were getting shorn…
Remember, back in November, I told you Solar panel installations in the U.S. were set to post growth of 36% by the end of the year. That's huge. And look, it doesn't even matter if you believe in global warming or any of that jazz. Solar is just a practical source of energy now, in many places at least.
There are plenty of good-looking solar setups out there right now. I already mentioned First Solar and its new Apple deal. This stock's putting in a sweet bounce.
Regards,
Greg Guenthner

for The Daily Reckoning
P.S. These stocks will look so much better with full heads of hair, don't ya think? If you want to cash in on the biggest profits this market has to offer, sign up for my Rude Awakening e-letter, for FREE, right here. Stop missing out. Click here now to sign up for FREE.