Can You Draw a Line? Then You Can Avoid the Next Crash…
Afraid the market's gonna crash?
Well, can you draw a friggin' line? Then there's no need to fear, my friend…
Because today, I'm going to show you how one simple line can tell the difference between a temporary market dip and a major swan dive, long before the herd figures it out.
And by the time you finish reading this brief strategy sessions, you'll know exactly when to get the hell out of a crashing stock market.
The best part is, what I'm about to show you isn't some weird freemasonry requiring a deep understanding of the black arts of technical analysis. No. If you can draw a straight line, you'll get it. I promise. And if you can't draw a straight line, you might want to lay off the booze…
And to get you in the right frame of mind, we're getting a little help from my colleague and trader par excellence, Jonas Elmerraji.
Over the long weekend, Jonas received a note from a reader concerned about the market's footing right now:
"Aren't you getting worried about taking long positions facing a potential massive correction?" he writes. "I am worried…maybe even a little scared…to the point of starting to liquidate my long positions. I know we have support at certain levels but I think all those supports will be taken out with the correction. What is your take on the present and near term market and the looming market correction?"
Heavy stuff. And, not surprisingly, there are plenty of folks out there who feel just like this reader. You might even be one of 'em. So, should you sell everything and prepare for the worst?
Probably not. At least not now. Jonas explains…
"I think it's always a good idea to ask 'what if' on our long trades. That's especially true here – I certainly get the feeling that investors are getting complacent at the same time that U.S. markets are hitting all-time highs."
However, that doesn't mean you should go bonkers about the possibility of a sharp correction here, Jonas continues. In fact, we've seen nothing but healthy corrections in a strong bull market over the past few years. Even after factoring in a few months of choppy actions, nothing's changed…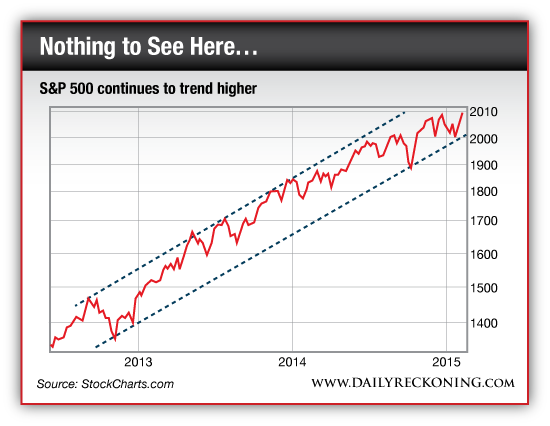 "The uptrend is intact here," Jonas says. "We're still in a 'buy the dips market'. As long as that stays the case, I'm perfectly happy buying stocks with both hands."
And you should be too, my friend…
Yup, I'm with Jonas here. None of the corrections we've experienced along the way to new highs have been "the big one" everyone's warning you about. Sure, some of the dips may have left your heart in your stomach. But at the end of the day, the market's bounced back. Every time. And the healthy pullbacks to support levels have been terrific buying opportunities.
OK, that's all well and good, I can hear you say. But how do you know when you should worry about a real crash?
Glad you asked. Here's the answer: The charts will give you all the info you'll need…
Let's look back to the huge crash of 2008. As you know, many were blindsided. But as Jonas explains, "The good news is that our technical toolbox gave us some major warnings that the stock market was rolling over."
Take a look for yourself: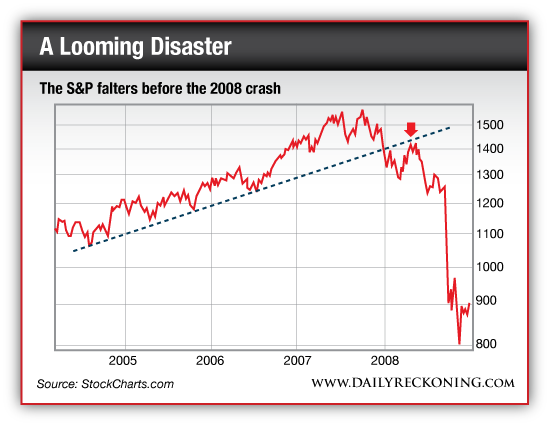 The S&P 500 was humming along with its multi-year uptrend—until the beginning of 2008. All you had to do was draw a straight line connecting the lows to figure that one out. That's when the big index started leaking oil. During the spring rally, stocks failed to recapture the uptrend (red arrow).
To me that meant one thing: Danger, Will Robinson! Danger! You know what happened next…
The important takeaway here is that even during historic meltdowns like we experienced in 2008, the market didn't simply crash from its highs…
It first tests its support levels, as you can see in this chart. When it failed for the second time, it showed me the market was out of steam. And that was the time to bail. But many traders thought they were looking at just another buying opportunity. They've still got the tire tracks on their backs to prove it.
Now, go back and look at the first chart again. As you can plainly see, we have the green light to trade this bull market right now. It's not testing support levels at all. In fact, it just got a fresh tailwind. How long will it last? We don't know. All bull markets eventually come to an end. But the trend is telling us we don't have to trade scared right now.
If we just follow the bouncing market until the dips aren't greedily bought up, we'll continue to bag consistent gains while everyone else runs scared.
And all it takes is one simple line on a chart. Who knew it was that easy?
Greg Guenthner
for The Daily Reckoning
P.S. And all it takes is one simple line on a chart. Who knew it was that easy? If you want to cash in on the biggest profits this market has to offer, sign up for my Rude Awakening e-letter, for FREE, right here. Stop missing out. Click here now to sign up for FREE.