Two Things You Must Know Before You Make Your Next Trade
Riddle me this…
What kind of gains should you look for when you're trading? More importantly, when the heck are you supposed to sell a stock?
You'd better have the answers before pulling the trigger on any trade you make, my friend. That's how important it is. Without a firm trading strategy, you're a ship without a rudder.
And technical analysis is one of the best tools we have to answer these questions. So today, I'm giving you special access to my bag of tricks. I'm going to show you two specific strategies telling you exactly what price targets to shoot for – and when to bail on your position.
I'm going to explain it all in English even a preschooler can get. So if you can't figure it out, just grab your grandkid. He'll tell you what's up.
And I'm enlisting the help of our resident trading guru, Jonas Elmerraji, to help explain it…
Right now, Jonas is opening up his FREE crash course for a limited time to teach you how his strategy works.  But since we're pals, he's agreed to let me share with you a taste of what he's teaching his readers…
"I focus on price patterns that have a set of price target rules called 'minimum measuring objectives' that apply to each price pattern," Jonas explains. "Knowing all of those rules takes a lot of rote memorization. So today, I'll show you a quicker way."
Let's dive right into Jonas' system…
Say you're looking at a stock you think could be a good short-term trade. Before you buy, you've got to pick your price target. Otherwise you'll have no idea when to sell. Here's how:
Look for Resistance

The simplest way to pick a price target is to look for the nearest overhead resistance level. The chart below offers a good example: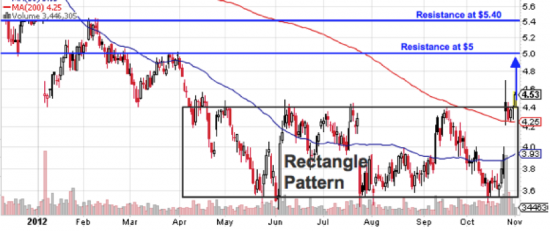 As you can see, this stock is currently forming what we call a rectangle pattern. And it's just starting to break out. So looking around for resistance, we can spot a level at $5 – and then another at $5.40. Having two nearby resistance levels is a good thing — that means if this stock busts through $5 without losing momentum, it is likely to run up to $5.40. That would be a heck of a trade!
"When you look for resistance levels, you're basically looking for pockets of sellers," Jonas says. "Resistance prices are places where sellers have previously been more eager to sell and take gains than buyers were to buy, so they make good potential stumbling points down the road. After all, how many shareholders in this stock have been telling themselves, I'm selling if it gets back to $5 for the past few months?"
Bottom line: when you meet resistance, be ready to sell if the stock's momentum doesn't carry it through to the next resistance level. This approach takes all the guesswork out of selling. Don't play wait-and-see.
Measure the Pattern

A simple method to determine price targets is measuring the height of the pattern. It looks like this: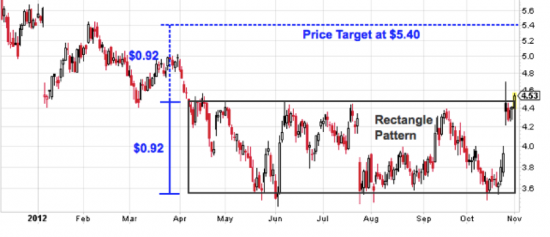 Basically, you're measuring the height of the pattern and then projecting a move to that same height. In this case, the pattern also matches up exactly with the $5.40 alternative price target we found using the first method — that means $5.40 is a very strong price objective. That should be your target in this example. It also gives this stock a 19% upside potential.
That's a nice haul for a short-term trade. Even though picking price targets can be tricky, you've gotta have one before you put your money on the line. Everything is just guesswork if you don't. As you might expect, the more you trade, the better you'll get at spotting likely moves. But never trust your gut. Always, always, stick to the rules you've established in advance.
If you're able to find trades like this example on a consistent basis, you'll be well on your way to building a market-busting portfolio over time. But in reality, much smaller gains are all you need. It's all about small gains adding up to big profits—and avoiding big losses.
"Despite what most investors believe, you don't need enormous gains to retire wealthy," Jonas continues. "What if I told you that you could retire with 1% average gains? As implausible as that sounds, the truth is that averaging 1% gains could yield substantial profits — even if you don't have a million-dollar account….
"Think about it this way: If you could guarantee a 1% gain each trading day, your average gain at the end of the year would be that paltry 1%. But because your holding period is so short (just a day), in a single year, your portfolio would have gained 252% cumulatively. If you'd factored in compounding, that same 1% average gain would have left you with 1,127% profits by the end of the year…"
Obviously, this is an extreme example, but the takeaway is this: even if the price targets on your trades don't look massive, your profits can become massive over a relatively short period of time.
Like what you see here? Want more? Sign up for Jonas' FREE crash course to teach you about the strategy that has shown how to it's possible to pull gains as high as 30%, up to 54% — or even up to 70% in as little as a week. Click here to get started.
Regards,
Greg Guenthner

for The Daily Reckoning
P.S. Even if the price targets on your trades don't look massive, your profits can become massive over a relatively short period of time. If you want to cash in on the biggest profits this market has to offer, sign up for my Rude Awakening e-letter, for FREE, right here. Stop missing out. Click here now to sign up for FREE.