The Deadly Mistake Even Experienced Traders Make…
My friend and fellow trader Jonas Elmerraji is a pilot.
Why should you care? Well, because he's pinpointed an important parallel between flying and trading you need to grasp if you want to find success in the markets. Master it and you'll cheat the market. Ignore it… and you can kiss your moola goodbye.
I'll let Jonas jump right into it…
For a newly-minted pilot, clouds are extremely dangerous. They take away your visual reference to the horizon, making it incredibly difficult (or impossible) to control your airplane…
In 1954, the University of Illinois conducted a study where they put 20 non-instrument rated pilots in a flight simulator, and then simulated instrument conditions. On average, it took 178 seconds for the test subjects to lose control of their pretend airplanes.
Scary. But surely an instrument-rated pilot, trained to fly in these conditions, would fare better, right?
Not really. The FAA and the NTSB found an interesting trend reviewing accident cases. As Jonas explains…
"Even instrument-rated pilots were losing control and crashing airplanes in instrument conditions. But it was only happening when they inadvertently encountered bad weather."
These pilots were trained…but they weren't prepared.
See where this is going?
Just as trained pilots can "lose it" during conditions they're trained to survive, experienced traders can also "lose it" under similar conditions…if they're not prepared.
It's not enough to know the trading "rules" if you don't stick to them when the "instruments" say you should. In this case, your instruments are the tools of technical analysis…
As a trader, you should always expect bad weather – and listen to your technical analysis "instruments" when they're blinking red…
Last week, I showed you how drawing a simple line can help you figure out whether the market is experiencing a temporary market dip…or a major swan dive. But listen, that only works if you trust your instruments…
We looked back at the crisis of 2008. As you know, the market crashed in the fall. But our instruments noticed something wrong months earlier when it fell below a long-held trendline. Take a look: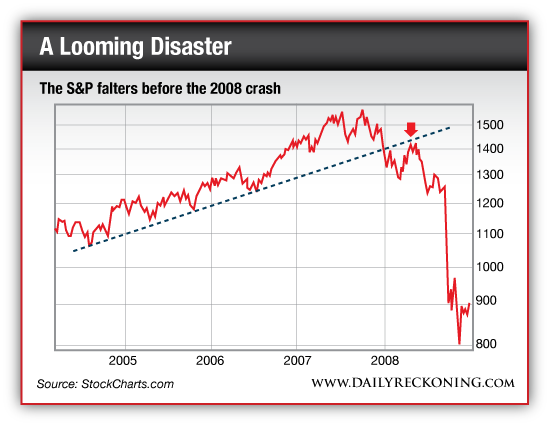 But here's the thing…
Even though the signs of the crash were obvious in hindsight, hardly anyone sold in early 2008. Why? Because traders were "flying" in clear skies. They didn't believe their instruments, which were flashing bright warning signs of bad weather ahead. And many crashed as a result…
That's why so many investors won't avoid the next market crash just by knowing how to draw a simple trendline. Those guys did. But it didn't help them where the rubber met the runway. Their beliefs got in the way. Were you any different?
"Fact is, you probably won't want to sell," adds Jonas. "It's human nature – and that's precisely why market crashes catch so many smart investors with their pants down."
Bingo. Always, always expect bad market weather – no matter how sunny the skies. That's what separates a good pilot from an average pilot – and a good trader from a bad trader. Your financial future hangs in the balance. So straighten up and fly right…
And trust your instruments, dammit.
Regards,
Greg Guenthner
for The Daily Reckoning
P.S. Your financial future hangs in the balance. So straighten up and fly right…If you want to cash in on the biggest profits this market has to offer, sign up for my Rude Awakening e-letter, for FREE, right here. Stop missing out. Click here now to sign up for FREE.