Are You Too Much of a Snob to Trade these Companies?
Alright, so Walmart might not be your cup of tea…
Too much cheap Chinese junk…too downscale for your tastes…too many inbreeding slobs married to their first cousins walking around…
Fine. I get all that. You know what? I don't care. Because stores like Walmart and Target are shaping up to hand you quick, double-digit gains right now…
Both chains have stolen headlines recently, and not all of them good for the bottom line. Target had to handle a massive data breach, and Walmart announced last week it'll address labor issues by paying its U.S. workers at least $10 an hour by next year.
So why should you consider putting bets on 'em?
Glad you asked.…
If you look at the past six months, you'll see why. Walmart and Target have run rings around the S&P 500. Target's up almost 30%, while Walmart is up a cool 13%. The S&P inched ahead with a 6% gain over the same timeframe. Have a look yourself: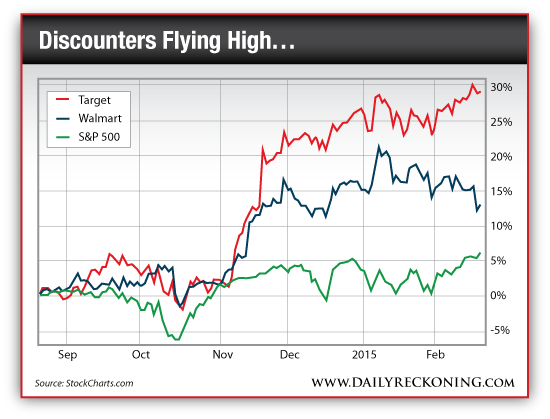 And both should continue to outsprint the market over the next 18 months. Target's lapping the field right now. Walmart shares haven't yet put on their running shoes this year, but they will, my friend.
Here's why these stores are lookin' so good these days:
JC Penney and Sears are dead. And guess who pulled the trigger? You got it—Walmart and Target. Sure, these two are mortal enemies. But they teamed up to kneecap the stodgy retailers standing in their way. There's no room in the retail landscape for huge, mid-level stores anymore. Any in-betweeners are headed for the boneyard…
Middle-class consumers are roaring back. The financial crisis was a shot to the solar plexus for middle and working-class folks. But things are finally looking up for Joe Mainstreet. The consumer confidence index is at its highest level since August 2007. And gas is cheap right now. Hell, with Walmart starting to pay decent wages, employees might even be able to afford the Red Light Special one day!
I think we could see a quick gains from bot Walmart and Target… without taking on too much risk. Try getting that from your savings account.
And stop hating on Walmart, you snob!
Regards,
Greg Guenthner
for The Daily Reckoning
P.S. Stop hating on Walmart, you snob! If you want to cash in on the biggest profits this market has to offer, sign up for my Rude Awakening e-letter, for FREE, right here. Stop missing out. Click here now to sign up for FREE.