Forget Oil — Get Truckin' for Some Double-Digit Gains
10-4 good buddy – today, we're goin' trucking…
And we're gunning for some double-digit gains from the cheap oil play I'm about to describe.
A play on cheap oil? OK, you might be skeptical after we had a cheap oil trade blow up in our face last month. But listen…
We thought rock-bottom gas prices would offer us some low-hanging fruit with UPS last month. But that fruit turned rotten when management announced 2014 earnings would miss the mark, which tanked the stock. The reason? Brown hired way too many seasonal workers to handle the Christmas rush. They blew it during the most important time of the year—and we got shafted.
That's what happens sometimes. It doesn't matter if the idea is right on the money or completely wrong. We got unlucky—them's the breaks. But we followed the rules, cutting our losses early. We didn't lose much. So we moved on.
OK, back to the oil patch.
Oil tried its hand at $55 this month—but quickly folded its cards. Spot price is treading water at $50. And as far as I can tell, it might not budge anytime soon.
So now we have a second chance at double-digit gains trading the cheap oil theme. And don't worry, we're not touching UPS…
Listen, oil isn't magically jumping to $100 anytime soon. As I said, it could fluctuate around $50 for the foreseeable future. That's great news for businesses using a lot of fuel. Operating costs are way down, which means higher profits. And higher stock prices. Check out the Dow Jones Transportation Average right now…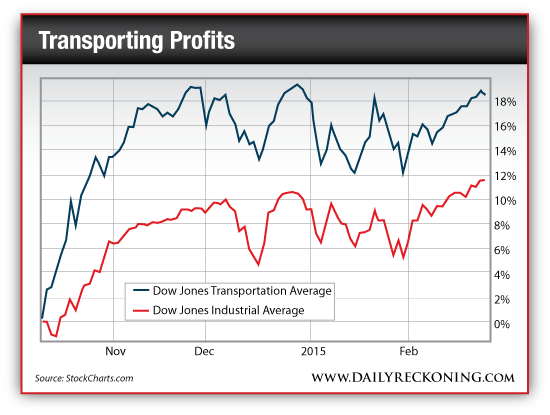 It's up a muscular 18% since the October bottom. Compare that to the Industrials, which are up less than 12%.
Breaking it down further…
Airline stocks look good these days, but most lost altitude after spikes in December and January. Railroads got derailed because many make money transporting oil, and the market's giving the back of the hand to oil right now. But there is one group in the transports where we see a perfect trade shaping up: trucking.
So get truckin' today. Over and out.
Regards,
Greg Guenthner

for The Daily Reckoning
P.S. So get truckin' today. Over and out. If you want to cash in on the biggest profits this market has to offer, sign up for my Rude Awakening e-letter, for FREE, right here. Stop missing out. Click here now to sign up for FREE.