Ignore the Crash Callers and Buy This ETF
So you think you're a contrarian, eh?
OK tough guy, today we're gonna see if you can put your money where your mouth is…
Because everyone and their friggin' brother thinks the market's due for a crash. Everyone. Even the mainstream financial media is ringing the bells of doom…
"It's time to start the countdown to the crash of 2016," reads the No.1 read column published on MarketWatch Thursday. "No, this is not a prediction of a minor correction. Plan on a 50% crash."
Never mind this joker made the exact same call for a 1929-esque crash last year, too. Funny, I somehow missed the famous Crash of 2014. Must have been when I was on vacation. Or maybe it happened after I had a few drinks and wasn't paying attention. Anyway…
If you check out this chart from Bespoke Investment Group, you can see that bullish sentiment has been dropping since October: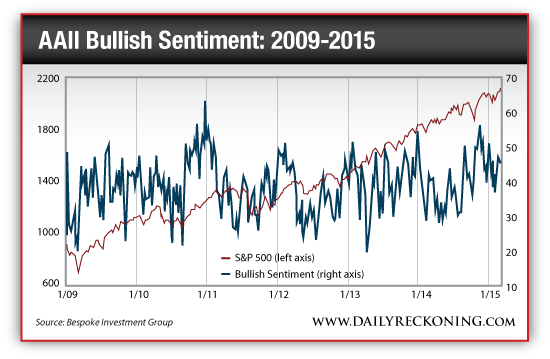 So, are the Chicken Littles right? Are we heading for a crash? I sure doesn't look like it to me. Here's why…
Bull markets run on skepticism. And right now, everyone's a skeptic—even as stocks break new ground. While they hesitate, we trade. And make money.
So today you can earn some contrarian street cred by betting on the bulls…
Look, we're not contrarian just for the sake of being contrarian. Only idiots are. And yes, the market will eventually drop. But the charts will tell us when it's time to sell. And right now, they're screaming "BUY". There's simply no other way to put it.
Of course, you want to be exposed to the biggest, baddest bulls driving the market higher. Here's a peek at the year-to-date performance of the major sectors compared to the S&P 500: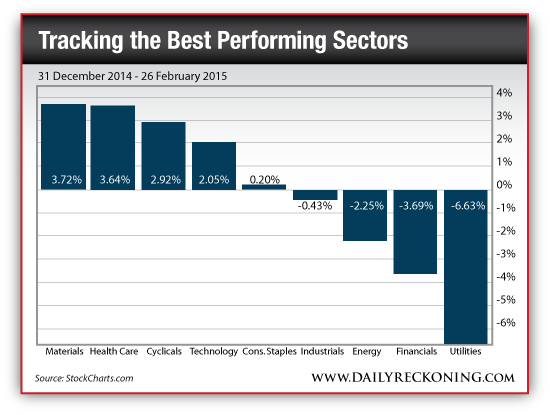 Consumer stocks, healthcare, and materials are leading the charge this year, while energy, financials and utilities are bringing up the rear. So I don't have to tell you what to buy if you want to make money in 2015.
If you're the contrarian you say you are, today's your chance to prove it. It's time to channel your inner Hemingway – run with the bulls.
Regards,
Greg Guenthner
for The Daily Reckoning
P.S. It's time to channel your inner Hemingway – run with the bulls.If you want to cash in on the biggest profits this market has to offer, sign up for my Rude Awakening e-letter, for FREE, right here. Stop missing out. Click here now to sign up for FREE.