IPO or BUST? Here's Why You Need to Know the Difference…
Most IPOs are like the next blockbuster Hollywood movie…
The theaters pump it up for months. And because you're such a sucker, you're determined to be there opening night. You overpay because you're seduced by the bright lights, red carpets and the sexy starlets climbing out of limos in mini-skirts and push-up bras.
Looks good. But as soon as you leave the theater you say to yourself, "You idiot. What a total waste of money that was. You should have just waited until it came out on Netflix."
You bought the hype. And many investors come to grief chasing initial public offerings. They can't resist the siren song of the IPO hype machine, so they buy with both hands. Then they lose everything they may have initially gained when the stock comes down to earth. But listen, there's a way to trade IPOs without kissing your money goodbye…
And today, I'm going to show you how to make money on the next dazzling IPO—by learning how to avoid tossing money at the next "hot stock."
To drive the point home, let's take a look at how the granddaddy of all IPOs has fared over the past six months…
In September, one of the most valuable technology companies in the world debuted on the New York Stock Exchange. I'm talking about China-based Alibaba (NYSE:BABA) — the largest e-commerce company in the world.
Just how big was Alibaba? Well, for starters, the company's transactions totaled $248 billion in 2013 – and yes, that's billion with a "B." So investors were stampeding each other to buy this stock like Walmart shoppers on Black Friday. Accordingly, analysts expected Alibaba stock to begin trading around $68 per share.
However, on opening day, Alibaba's initial price actually topped $92. And it came within 30 cents of cracking $100 before closing around $94. So much for those expert "estimates". But as it turns out, Alibaba was just getting started…
After gliding lower for its first few weeks on the market, Alibaba ignited a month-long bull run. Shares shot from $84 to $120. It looked golden for anyone who'd bought in the $90s. But it was fool's gold. The stock peaked in November and has trended lower ever since. You can now pick up BABA near its low—about $85 a share.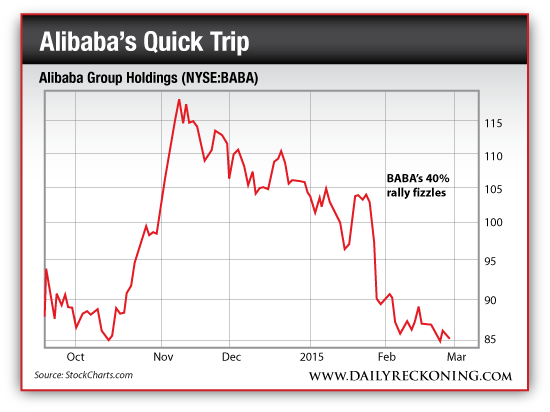 This action might seem crazy to you. But it's fairly typical of a recent IPO. It's simply a case of too many frantic buyers fighting to grab shares at the exact same time, only to see the stock come crashing back to earth when the hype machine breaks down.
So here's the secret to trading IPOs: You sit on your hands. Unless you're an aggressive daytrader or swing-trader, don't touch these things when they first begin trading. Listen, if you're seduced by the sexy starlets in the mini-skirts and push-up bras telling you to buy, go take a cold shower.
It typically takes six months to a year for a new IPO to show its true colors. And to prove it, let's look at FireEye Inc. (NASDAQ:FEYE), a recent IPO that's had time to handle growing pains.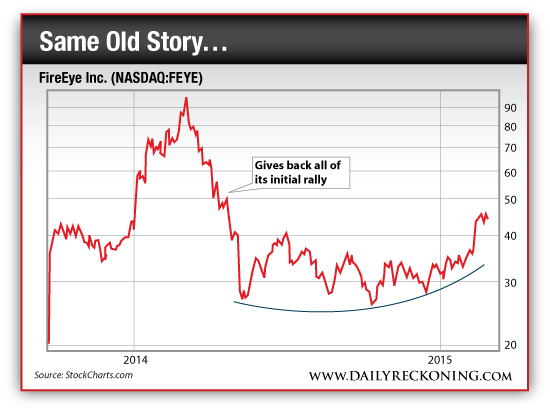 Notice how FEYE endured 10 straight weeks of losses in early 2014. It gave back every cent from its initial rally. Every one. That's nearly identical to what we've seen so far with Alibaba.
But look at what happens next…
After the next ten months, FEYE found a bottom. It settled down and consolidated near $30. This action set up what we're seeing now—FEYE finally turning a corner and breaking out to prices not seen since its early 2014 crash.
So here's the smart way to trade IPOs: You wait for the run-up and the subsequent fall. Then, when the price stabilizes and breaks above the bottom of the crash zone, you have a great chance to buy a "post-hype" IPO for the long haul.
Buying IPOs like BABA and FEYE requires patience. Remember, it's not about being there opening night. The key is to have the discipline to resist the Wall St. hype machine, just like you need to resist the Hollywood hype machine.
Don't join the crowd. Wait till the next hot stock "comes out on Netflix." Then, when everyone's waiting for the next IPO box office smash, you'll have a shot to buy it when the real rally emerges.
Regards,
Greg Guenthner
for The Daily Reckoning
P.S. Wait till the next hot stock "comes out on Netflix." If you want to cash in on the biggest profits this market has to offer, sign up for my Rude Awakening e-letter, for FREE, right here. Stop missing out. Click here now to sign up for FREE.