Another Tech Bubble? Here's What You Must Know Today…
Run for your life!
Just remember to dump your tech stocks first. The Nasdaq's hitting 5,000 again. And we all know what happened the last time that occurred 15 years ago. Does the term "bursting of the dot-com bubble" ring a bell?
So your questions today are: Are we due for an encore performance? Is the tech bubble about to explode all over again?
Serious questions. And today you're getting serious answers, my friend…
Make no mistake: the prospect of Nasdaq 5,000 is sending icy chills down the spines of many investors. They think its smoking-gun proof of a new bubble. Never mind the S&P 500 and Dow Jones both blew past their own all-time highs two years ago. And last time I checked, they're still going strong. Just sayin'. But for some reason, investors think the Nasdaq is conjuring up fears of another dot-com disaster.
So should you worry about Nasdaq 5,000?
Nah…
Look, you know I'm not a fan of the mainstream financial press. But it's hard to argue with the Wall Street Journal when it says, "It's not unprecedented for an index to take more than a decade to reclaim a previous high. The Dow Jones Industrial Average and S&P 500 each took 25 years to reach their heights of the 1929 boom, a span that included the Great Depression, World War II and the Korean War."
In other words, relax, my friend. This is normal. And if you fear the Nasdaq is getting a little too big for its britches again, I can also point out that valuations are nowhere near the wild and wooly highs of the 2000 tech bubble…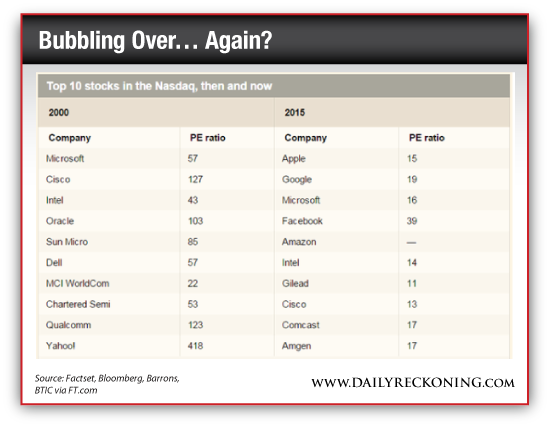 Only an idiot would say there aren't any expensive stocks out there right now. But if you look at the top Nasdaq stocks from year 2000 vs. today, it's easy to see why the comparison falls way short. Hell, back in 2000, Yahoo! shares were trading with a P/E ratio of 418! That makes today's Facebook seemingly laughable P/E ratio (approaching 75) look like a steal.
Bottom line: new highs are nothing to worry about—especially with a 15-year break in-between.
Regards,
Greg Guenthner
for The Daily Reckoning
P.S. One alpha male of the Nasdaq is flexing its muscles again. Which one? If you want to cash in on the biggest profits this market has to offer, sign up for my Rude Awakening e-letter, for FREE, right here. Stop missing out. Click here now to sign up for FREE.