The Good Doctor's Dead. Here's Why You Won't Miss Him…
Dr. Copper is dead.
He wasn't murdered by short sellers or even a worldwide recession that killed demand for the stuff. This time around, technology did in the good doctor. And as you're about to see…
This technology is the key to today's trade…
It all started back in late November when Dr. Copper started acting loopy, dropping well below $3 for the first time since 2010.
But because we're such Johnnys-on-the-Spot, we bet against copper with a Freeport-McMoRan Inc. (NYSE:FCX) short play in December that racked up a 20% gain in just two weeks. Pretty nifty of us, I must say.
Copper even sank to new lows earlier this year, and the metal finally put in what now looks like a temporary bottom early last month. But now its curtains, I'm afraid.
So why did Dr. Copper fall so far, so fast?
Well, partly because he got pistol-whipped by today's trade. Dr. Copper just isn't the economic barometer he used to be. And today's trade is what's taking its place…
"Dr. Copper in my opinion has been replaced by technology, specifically semiconductors," explains technician Andrew Thrasher. "The market seems to be much more focused on the happenings of Silicon Valley rather than Milwaukee or Detroit. While the industrial sector still remains a large piece of our economy it no longer is the driver of growth."
Semiconductors—not copper – are now driving the economy's health, at least in part. And today, the vital signs look great for these things…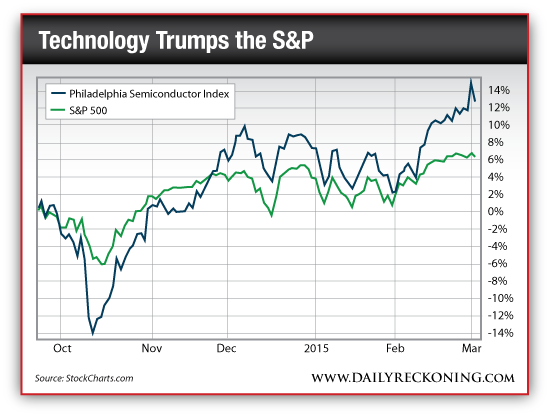 After swooning in October, semiconductor stocks put in a screaming recovery. And these things went gangbusters in February, blasting past the broad market. All told, semiconductors have posted gains north of 12% over the past six months, while the S&P crept along at 6%.
And by the looks of things, this powerful trend ain't stoppin' anytime soon.
Regards,
Greg Guenthner
for The Daily Reckoning
P.S. I think we could see a double-digit move in this industry over the next couple of months. If you want to cash in on the biggest profits this market has to offer, sign up for my Rude Awakening e-letter, for FREE, right here. Stop missing out. Click here now to sign up for FREE.