Pollution Is Good for You. Here's Why…
See this picture?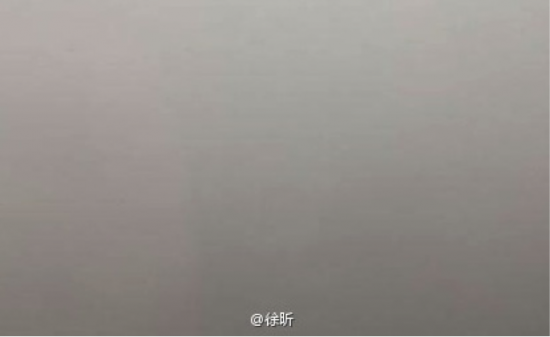 No? Don't worry, there's nothing wrong with your computer. It's a picture of Beijing. Only you can't see it through all the smog.
Pollution is a disaster in China. But as you'll see, it can make you a ton of dough this year.
And I think we're looking at gains up to 30% with today's anti-pollution play…
So strap on your face mask — we're heading into the belly of the smoggy Beast of the East.
Did you know only 8 of China's 74 big cities met air quality targets last year? 8! But a bold new documentary might turn China's crippling pollution problem around.…
"Under the Dome" is a blockbuster film sweeping China.
According to NPR, "some scenes in the film are shocking, including a visit to a hospital operating room, where viewers see the damage China's polluted air can do to a person's lungs."
And this thing has gone viral. More than 200 million people have seen this film. It's a little too popular for the Chinese government – it ordered the media to stop reporting on it.
The film's success could become a "watershed moment" for Chinese environmental policy, MarketWatch notes. If Chinese citizens start demanding action, we could see major changes on the horizon.
What does that mean for you? Well, maybe it's time you considered dropping some coin on alternative energy stocks…
You might recall I backed off solar in January because every mainstream finance article not about the oil crash was hyping solar power. They droned on about skyrocketing demand, how much cheaper it's becoming…blah, blah, blah. It felt like the universe was setting these stocks up to fail.
And sure enough, alternative energy stocks got smashed when oil collapsed. But many are now storming back to life. And solar is leading the charge…
Remember this chart I showed you last month?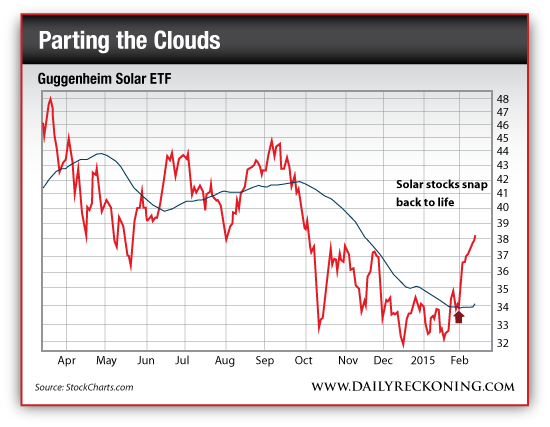 The Guggenheim Solar ETF (NYSE:TAN) is up double-digits since I first mentioned it. Not bad for a play coming off a 5-month beating…
Amazingly, solar companies are still making money despite oil's big drop. Why? People across the world are investing in solar power to curb pollution. And it's getting cheaper every day. (Word to the wise: Chinese demand in particular will be insane).
Regards,
Greg Guenthner
for The Daily Reckoning
P.S. We could squeeze up to 30% gains out of this sucker as the case for solar builds by the day. If you want to cash in on the biggest profits this market has to offer, sign up for my Rude Awakening e-letter, for FREE, right here. Stop missing out. Click here now to sign up for FREE.