Here's Another Reason to Think Small…
Lean in a bit closer will ya? I need to tell you something…
Buy small-cap stocks. Now!
Small-caps are one of our 2015 "trades of the year." And weeks like this prove why…
Small-caps stood tall when the market took a hard right cross Tuesday. They saw stars but took the punch better than the Dow, S&P or Nasdaq. Same thing yesterday. The Russell 2000 wobbled but outlasted the big boys for the second straight day.
Sometimes, when the market speaks, you have to listen. But stocks aren't going to shout out all of their secrets for everyone to hear. So you have put your ear to the ground to try and figure out.
So, back to that small-cap comeback. Are you ready to take advantage of a golden opportunity to "buy the dip" today?
That's what I thought.
Here's the deal…
Every recent market pullback—even the smaller ones—has telegraphed a major move higher for small-caps. And that's where we stand today. They're ready to sprint higher after a minor pullback.
True, small stocks were the 98-pound weakling for most of 2014. But what a difference a few months makes. These guys have been quietly outpunching the biggies since mid-October's selloff.
Here's what I wrote over four months ago: "The real winners after all the bloodshed are small-cap stocks. After coughing up more than 1.2% at the open, the Russell 2000 small-cap index caught a bid and finished the day up 1.8%. That's right–the Russell posted a 3% gain trough to peak, stomping the throats of the major averages."
That was the turning point. Small-caps have kicked ass ever since.
See for yourself: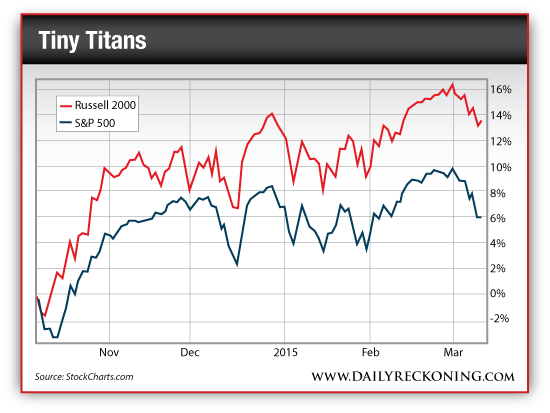 The Russell 2000 has more than doubled the S&P 500 over the past five months. And it's just getting started. As I told you earlier this year, that's a sign of a healthy bull market. You want to see small companies that drive innovation outperforming the grown-ups.
Yet no one's talking about it!
But after a year of consolidation, I wouldn't be surprised if traders start piecing it together. So you've got a great opportunity to start a new position in small-caps today—or add to an existing one. Wanna buy the dip? The market just gave you a golden opportunity…
Carpe diem!
Regards,
Greg Guenthner

for The Daily Reckoning
P.S. Buy small-cap stocks. Now! If you want to cash in on the biggest profits this market has to offer, sign up for my Rude Awakening e-letter, for FREE, right here. Stop missing out. Click here now to sign up for FREE.