The Best Medicine There Is
With all the hoopla about the danger of getting measles floating around the country, it's appropriate for all adults to look at the new 2015 immunization schedule and figure out what they may be missing.
This year, the major recommended change is that adults over 65 should get both types of pneumonia vaccine now available — PCV13 and PPSV23. The complication in the recommendation is that you need to wait a year between inoculations by the two versions. Otherwise, recommended vaccines are the same as last year.
Nonetheless, you may be surprised how many vaccines are available to adults — we tend to think of vaccines as a type of medicine reserved for children. Vaccines are very powerful health factors for longevity in adults.
I recently spent a couple of days with one of my favorite geniuses — Juan Enriquez. He is the founding director of the Life Sciences Project at Harvard Business School who now runs an investment capital firm for biotech companies. He has a hot new book out about the rapid evolution of humans called Evolving Ourselves, documenting the rapid evolution of a new species of human. I've read an advance copy, and it's fascinating. I recommend it to readers.
But the reason I bring up Enriquez is that he made an intriguing comment when we were discussing the cost of health care systems. He told me that vaccines are the least expensive and most effective medicines on Earth and that they are the first and best way to spend a dollar on health care. That makes sense to me.
So what are you missing? Do you get a flu shot every year? A tetanus booster every decade? Have you had a meningitis inoculation (if recommended by your doctor)? Got the measles vaccine (assuming you were born after 1957)? And if you didn't get it as a kid, the papillomavirus vaccine? What about the chickenpox vaccine, and hepatitis A and B vaccines? And don't forget those pneumonia vaccines.
Have a look at this chart from the Centers for Disease Control, and don't just walk into your local Costco and load up on vaccination shots — talk to your doctor first about which are appropriate to you. Then take advantage of the best medicine money can buy.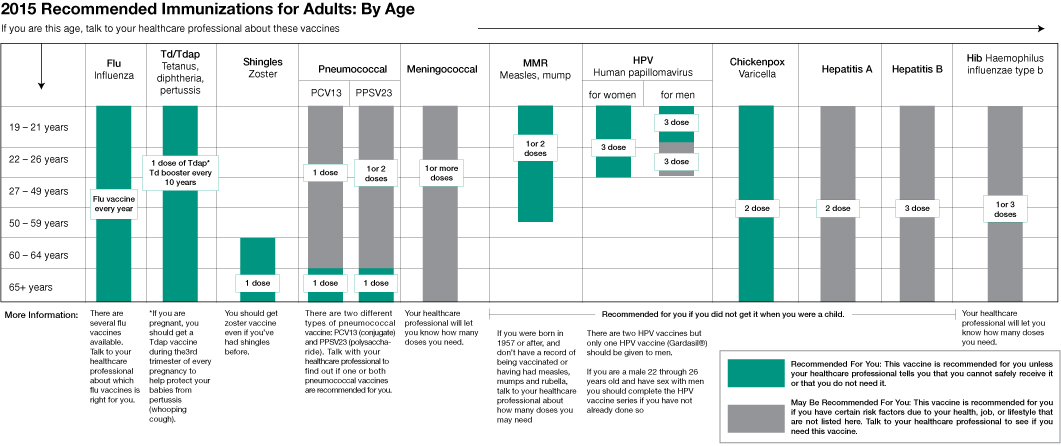 To a bright future,
Stephen Petranek
for The Daily Reckoning
P.S. Get the top investment trends for 2015 in medicine and technology from the former head of the most popular science magazine in the world. Simply sign up for our Tomorrow in Review e-letter for FREE right here. Don't miss out. Click here now to sign up for FREE.