URGENT: Take Profits on These 3 Trades
I'm baaaack…
Yep – back in the saddle after roughing it in the desert for a week. I fended off mountain lion attacks…lost a few bucks betting on March Madness during a detour to Vegas…and meditated on the markets while staring up at the stars.
Stocks stabilized in my absence after wandering lower during that pesky early-March pullback. The major averages aren't setting the world on fire right now, but some of our trades are getting a bit overheated…
So today we're taking profits on three of them…
It's hard to exit red-hot stocks. But it's something you should consider when they get too far ahead of themselves, which I think these are. That's because the market could almost instantly take back all the ground they've gained – and then some. And we don't want to give back our hard-won gains.
So here are the three trades we're taking profits on today…
First up are the blazin' biotechs. These stocks have dominated the market so far this year. But a closer look at the chart shows that they might need a break: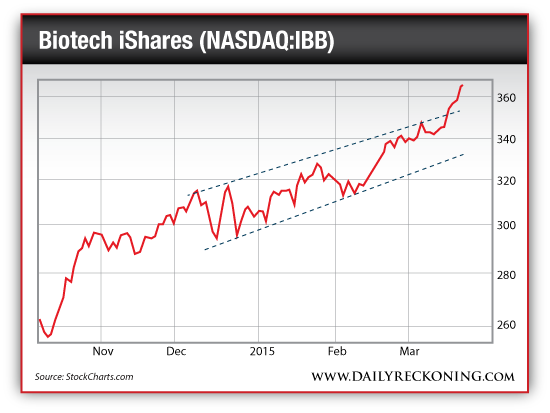 The Biotech iShares (NASDAQ:IBB) are up nearly 21% so far this year, while the S&P 500 is up about 2%– and we're not even through the first quarter yet. IBB has been an absolute beast. But the pot looks like it's boiling over. Last week's move blasted this biotech ETF above its upending channel. And IBB shot out of the gate Friday, only to run out of breath later in the day.
With an overbought name like IBB, action like this is usually a sign of short-term exhaustion. And that's why we're taking profits today…
And this is exactly the kind of pattern we're seeing with a couple of other hot trades, too. Just check out health care stocks: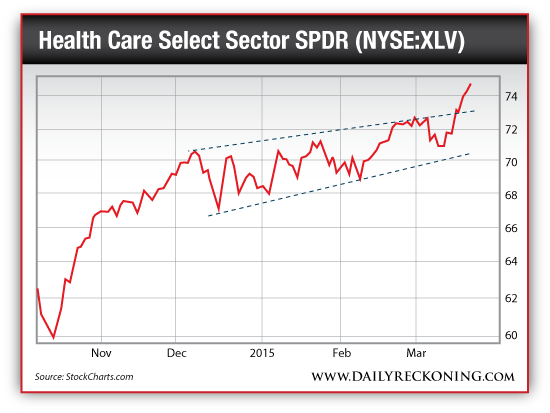 Does this chart of the Health Care Select Sector SPDR (NYSE:XLV) look familiar? If not, your short-term memory really sucks. It looks almost exactly like the biotech chart you just saw. Granted, XLV's performance has been less hectic. It's up only 10% on the year. But the pattern remains the same. XLV boiled over last week so it might be time for a break…
And if that's not enough look at what small stocks are up to right now: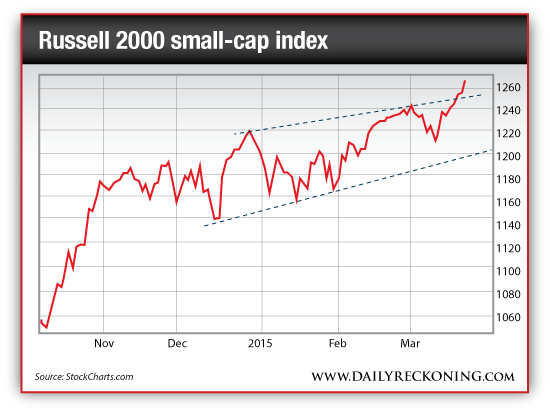 Man—another red-hot chart in desperate need of an icy shower. Small-caps have been tearing it up this year. But they can't maintain this torrid pace forever. And while the Russell is the least scary of the three charts you've seen this morning, it still could use a breather to refresh itself.
OK, I know what you're thinking…
We're gonna sell out of these names and short the hell out of 'em.
Easy there fella. Slow down. I do not think any of these tickers is headed for a nasty crash right now. But they could pull back a bit more than we'd like. So why stick around when we've got a pile of cash sitting there for the taking?
Here's what you do…
Take some money off the table if you hold any of these plays. That means taking profits on the Biotech iShares (NASDAQ:IBB), Health Care Select Sector SPDR (NYSE:XLV), and Russell 2000 iShares (NYSE:IWM).
You've bagged some sharp gains on these three positions. Now it's time to put 'em in your pocket. Don't worry, you'll have a chance to play all of these trends again soon.
Regards,
Greg Guenthner

for The Daily Reckoning
P.S. Don't worry, you'll have a chance to play all of these trends again soon. If you want to cash in on the biggest profits this market has to offer, sign up for my Rude Awakening e-letter, for FREE, right here. Stop missing out. Click here now to sign up for FREE.