Sex Sells. Here's Proof…
Riddle me this…
What do you get when you mix a bunch of gamer geeks…a smoking-hot model…and 40 million bucks?
One helluva weekend in Vegas, that's for sure.
But you've also got an insanely profitable company raking in a million dollars a day.
And today you're going to learn how to ride this company's coattails for some sizzling double-digit gains.
Let me explain…
There's a small Silicon Valley app maker called Machine Zone. And by small I mean it doesn't have many employees. But what it lacks in bodies it makes up for in cold, hard cash. See, Machine Zone makes the wildly popular Game of War app, a game you play on your phone.
Yeah but you just want to hear about that smoking-hot supermodel, right?
Machine Zone signed Kate Upton to help advertise this phone game. The blonde bombshell has shown up everywhere from Twitter to the Super Bowl hawking it. And she's propelled the game to new heights.
The company spent a whopping $40 million to push this thing, an investment that seems to have paid off. For now at least. Machine Zone and Kate Upton have combined to create a legit business model that was unthinkable just a couple of years ago.
Look, I'll be the first to admit I've skewered the "app" industry in the past. I still can't wrap my mind around the whole thing. But many of these companies have figured out a winning formula to hook a new group of "gaming" customers who never had previous interest in video games.
I know it sounds nuts. But hey, ya can't argue with a business hauling in a million bucks a day. And one that's in bed (at least figuratively) with Kate Upton, no less…
More importantly, the games are set up so that customers continue to spend money as they play. It's the gift that keeps on giving for these mobile gaming firms.
And this industry is exploding…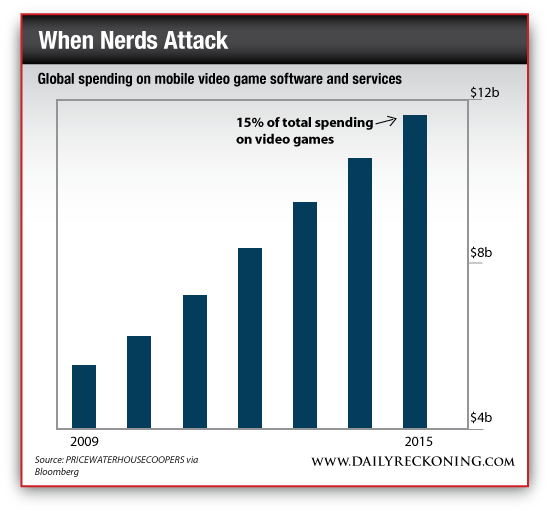 That means we're looking for a trade. Unfortunately, Machine Zone isn't a public company so you can't buy stock. But luckily you've got other trading options in this rapidly expanding marketplace. Here's a quick list:
First up is Zynga Inc. (NASDAQ:ZNGA). You might not have heard of Zynga—but you've probably heard of its games. This is the company behind the Facebook mega-hit FarmVille, as well as the popular Words With Friends. But I'm not too keen on Zynga's chart. The stock hasn't performed well recently, and other companies have grabbed their market share. I think you can do better…
Next up is Glu Mobile Inc. (NASDAQ:GLUU). You might recall we just tried to trade GLUU a few weeks ago and managed to get stopped out of the position. But I still like the stock despite the choppy action it's shown recently. GLUU also makes the Kim Kardashian game. I know that sounds mind-numbingly stupid, but it's apparently popular. Again, babes and nerds seem like a match made in heaven.
Finally, there's King Digital Entertainment (NYSE:KING). Yes, King Digital is the creator of the highly-addictive Candy Crush series. I won't sugarcoat it: KING can be a volatile stock. You'll have to stay on your toes with this one.
Now stop fantasizing about Kate Upton and get back to work…
Regards,
Greg Guenthner

for The Daily Reckoning
P.S. You can't argue with a business hauling in a million bucks a day. If you want to cash in on the biggest profits this market has to offer, sign up for my Rude Awakening e-letter, for FREE, right here. Stop missing out. Click here now to sign up for FREE.