WARNING: A Massive Housing Bomb Is About to Explode!
Home sales… Seven. Year. Highs.
Let that one sink in.
I just hope you're not one of those people who cussed me out for recommending homebuilder stocks late last year…
Yep, February new home purchases surprised all the experts by jumping to seven-year highs. No more talk about bad weather. Disappearing demand. Or even weak hiring taking its toll on potential buyers…
No, we've reached a tipping point. After falling apart for the past decade real estate is finally getting its act together.
And today I'm giving you a fresh opportunity to play this trend for double-digit gains…
"Sales climbed 7.8 percent to a 539,000 annualized pace, the most since February 2008," Bloomberg reports. "The reading exceeded even the most optimistic forecast of economists surveyed by Bloomberg."
Jeez, all they had to do was ask me. I would have told 'em what's up. But that tells you two things. First, you need to completely ignore economic "forecasts". They're useless.
The median forecast of the 76 economists Bloomberg surveyed undershot the actual total by 75,000. And the highest estimate was still 49,000 short. Not even close guys. Try again next month.
Secondly, you should realize the fuse is lit on a massive homebuilding bomb. And when it explodes, anyone holding homebuilder stocks will rake in a ton of dough. Make sure you're one of them.
Hey, you're no stranger to my big homebuilder call. Homebuilders, specifically the iShares Dow Jones U.S. Home Construction ETF (NYSE:ITB), are one of my trades of the year. It's up 14% since I first mentioned it in November. And almost 9% year-to-date.
Last year, I told you homebuilder stocks were poised for a huge turnaround over the next 18 months. And that call inspired almost as much hate mail as my bearish predictions for gold back in early 2013. Not only did you inform me that I was an idiot–you also couldn't get past poor housing market data flooding your news feed every day.
But I saw the key ingredients of an amazing comeback trade. We had a hated sector…poor financials…and the charts were looking like they'd bottomed out. So we pounced. And we're up 14% in just a few months…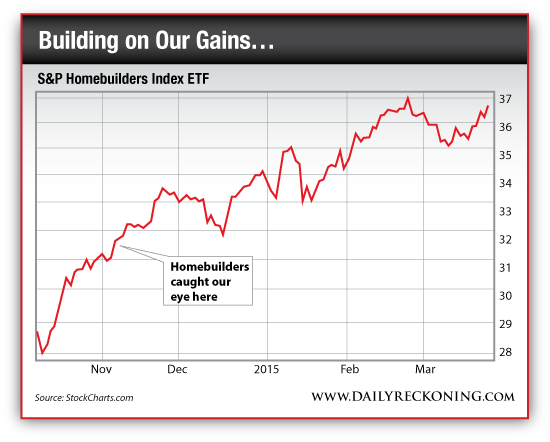 Besides the bullish new home sales data rolling in, I see additional catalysts for homebuilder stocks. Demographics tops the list. Millennials (a group larger than the baby boomers) are sprinting toward the critical household formation phase of their young lives. And the oldest of this group (approaching their mid-30s) who were hardest-hit by the financial crisis are breaking free of its grasp.
Add these bullish demographics to a market that hasn't seen much new construction in almost 10 years, and you have the spark to ignite a renewed building boom. Bloomberg notes that "a lack of inventory is giving Americans fewer properties from which to choose." Time for Bob the Builder to get to work…
Regards,
Greg Guenthner
for The Daily Reckoning
P.S. Home sales… Seven. Year. Highs. Let that one sink in. If you want to cash in on the biggest profits this market has to offer, sign up for my Rude Awakening e-letter, for FREE, right here. Stop missing out. Click here now to sign up for FREE.