Biotech's Busted — Here's What To Do Now…
Hear that hissing noise?
That's the air coming out of the stock market.
Here's what's happening and what to do about it…
U.S. stocks are plummeting supposedly because Saudi Arabia launched airstrikes against Yemen, which has retaliated by lobbing missiles into Saudi Arabia. Saudi Arabia, you know, where all the oil is.
In the Middle East the Saudi market took a 5% hit yesterday. But as Reuters explains that was primarily because "investors grew concerned about upcoming first-quarter earnings announcements" and "stretched valuations." Not much emphasis on the Yemen thing…
So…is the Saudi military action to blame for the U.S. selloff…or not?
Maybe—just maybe—the financial news is once again grasping at straws, plugging in generic geopolitical reasons for the market's every breath. Maybe this drop was going to happen anyway…
Some key overbought sectors hit the skids this week – before the Saudis lifted a finger. I dunno, might that have something to do with the poor performances of the major averages right now? Consider…
Biotechs blasted lower all week. Semiconductors hit the mat. And the once high-flying Nasdaq lost more than 3% on the week as of yesterday—topping off its worst run since last April.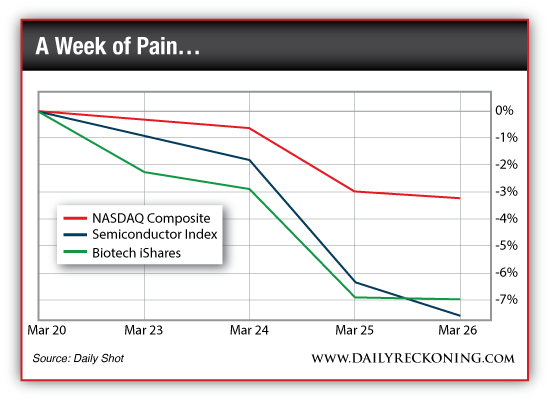 If you're concerned the Dow puked up 300-plus points in one day, my guess is this chart tells the story better than what's happening on the other side of the globe right now.
We saw the writing on the wall late last week. That's why I told you to take profits on the Biotech iShares (NASDAQ:IBB), Health Care Select Sector SPDR (NYSE:XLV), and Russell 2000 iShares (NYSE:IWM) early Monday morning.
IBB was up nearly 21% this year at the beginning of the week, for example, while the S&P 500 was up about 2%. That kind of performance can't last forever my friend. You're psychotic if you think it can. They had to take a break and we took profits while they were just starting to cool off…
But here's the million-dollar question: are we just dealing with some short-term exhaustion in these hot sectors…or a flat-out crash?
Here's the not-so-shocking answer—I don't know yet. Let's focus on biotech for a minute…
The Biotech iShares bounced off their 50-day moving average yesterday afternoon, making the situation much less dire (for now). But I think they need more time to cool off and a harder reset isn't out of the question.
But I won't say the bigger biotech boom is over just yet. So this is NOT the time to go all-in on a short play against these stocks.
The financial media is going to pummel you with a million and one opinions on biotech over the next few weeks. But your best bet is to ignore the noise and look to other sectors for you next big trade. There's absolutely no reason to try to time a move and get back in these stocks right now.
A little patience goes a long way. We have several trades working in our favor right now. Let's not let one group of stocks muck it all up…
Regards,
Greg Guenthner
for The Daily Reckoning
P.S. This could get interesting. If you want to cash in on the biggest profits this market has to offer, sign up for my Rude Awakening e-letter, for FREE, right here. Stop missing out. Click here now to sign up for FREE.