Here's Why the Chinese Year of the Bull Will Be Great for You
See this?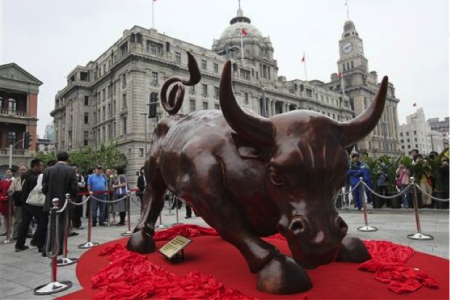 It's the famous Wall Street Bull in lower Manhattan, right?
Wrong. This picture's from Shanghai. The capitalistic communists…or communistic capitalists (whatever the hell they are) think Shanghai's the next major financial capital. So they made their own damn bull. And as you're about to see, it's in the perfect place…
That's because the Chinese stock market is on fire right now. And if you're smart you'll jump on this bull today for some blistering gains.
Ignore it and you'll pass up a hell of an opportunity— the Chinese bull might run off next year to hibernate for another decade. But it's not going anywhere just yet…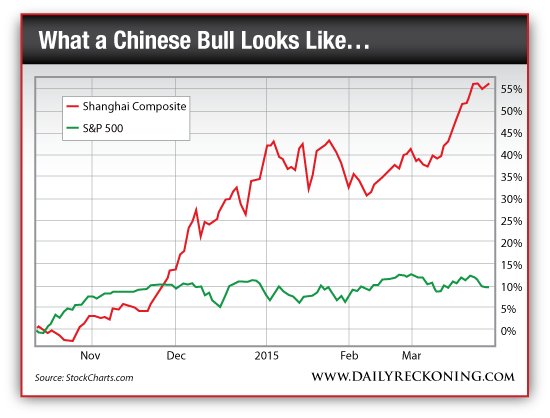 Check that out, sweetheart. The Shanghai Composite has blasted 56% higher over the past six months. And the big, bad S&P 500? Up just a little less than 10% over the same timeframe.
Most folks have no idea how that's even possible. Why? Chew on this Wall Street Journal quote from over the weekend:
"China's economic growth is slowing, corporate earnings are under pressure, bank loans are souring and the property market is in a funk." Sounds bad, right? But as the report adds, "The surprise financial bright spot: China's long-maligned stock market."
We called this thing early last year when the China Bull first began steaming at the nostrils. In fact, you were all over the initial breakout in the fall (if you were paying attention). I was so sure of this China trade I even put it on our exclusive trade of the year list for 2015…
So how is this happening? With all the awful economic news, how in General Tso's name can the Chinese market produce this historic rally?
A couple of reasons… Back to the Journal:
"The country's legions of retail investors are fueling the surge. On the streets of Shanghai, stock tip sheets sell for one yuan, or 16 cents. Near the city's People's Square, where small-time investors have for years gathered to discuss—and lament—the market, the crowds are larger and the voices louder."
Here's the deal: In November, China opened its Shanghai and Shenzhen exchanges just opposite Hong Kong– to the world. The new "Shanghai-Hong Kong Stock Connect" program gives regular investors a shot at mainland Chinese stocks.
What happens when a flood of new money pours into an exchange? The rising tide lifts all boats. All that money flowing in causes stock prices to increase across the board. That's what's happening in China.
Take the new China connection, add in rock-bottom mainstream sentiment, mix in some downright terrible economic data, and you've got what could be one of the strongest contrarian trades we've seen in years.
Will it end badly? Of course. This bull's gonna break a lot of China at the end of its run. This rally isn't driven by fundamentals but by a flood of new buyers bidding up the market at a time most market watchers didn't expect.
But I don't care. You shouldn't either. Throngs of Chinese investors have given us a great opportunity right now to grab the money and skip town before the party's over. We won't stick around forever. So what the hell are you waiting for? The Chinese bull is running strong right now. Make sure you grab his horns now before he runs away for another decade.
Regards,
Greg Guenthner

for The Daily Reckoning
P.S. Make sure you hop on this bull in a China shop. If you want to cash in on the biggest profits this market has to offer, sign up for my Rude Awakening e-letter, for FREE, right here. Stop missing out. Click here now to sign up for FREE.