Forget Dinosaur Tech IPOs — Just Buy Apple
Sell every stock you own – now! And get that survival bag ready cuz you're gonna need it.
April fool's!
Sorry. I just couldn't resist. But no more tricks today.
You see, more and more market watchers are saying the sky is about to fall. They say market euphoria is at frenzied levels, and that the frothy IPO market is proof we're entering Alice in Wonderland territory.
But today you're going to see why the market might not be so crazy after all. You'll also see if this is a fine time to trade good ol' reliable Apple. But first…
The Chicken Littles will point to GoDaddy's planned IPO as proof that tech offerings are getting out of hand.
Funny. About 10 years ago, GoDaddy was set to go public but backed out before pulling the trigger…
"Since then," Briefing.com reminds us, "the company has gone through a shake-up in management in 2011 with the CEO stepping down, followed by private equity firms acquiring the company for $2.25 billion."
So if even this 10 year-old garbage tech company is launching an IPO it's a sure sign the big tech bubble's about to burst, right?
Not exactly. GoDaddy's just looking to cash in (that's kinda the point of floating an IPO.) But if you actually look at the stats, you'll see we're not drowning in IPOs from every second and third-rate tech company on the planet…
Listen, GoDaddy will be only the second tech company in Silicon Valley to go public this year, reports the Silicon Valley Business Journal. So one crappy IPO hitting the Street next week ain't exactly a sign of an overheated market. It just isn't. Sorry.
But you already know my stance on IPOs. I don't like 'em. Companies go public to rake in a few billion dollars for themselves and the underwriters. And the suckers— sorry, investors who gobble up shares when these things come out— usually end up losers. The stock sinks once the initial euphoria wears off. Then it levels off at a much lower price before maybe rising at a normal pace again. That's why we avoid new stocks until they get their sea legs.
So instead of dropping your hard-earned dollars on GoDaddy, I not-so-humbly suggest you buy one of the best tech companies in the world instead…
Ever hear of Apple Inc. (NASDAQ:AAPL)? OK, so how about this: Instead of gambling your money on a "hot" IPO you'll probably lose your shirt on, pick up shares of Apple.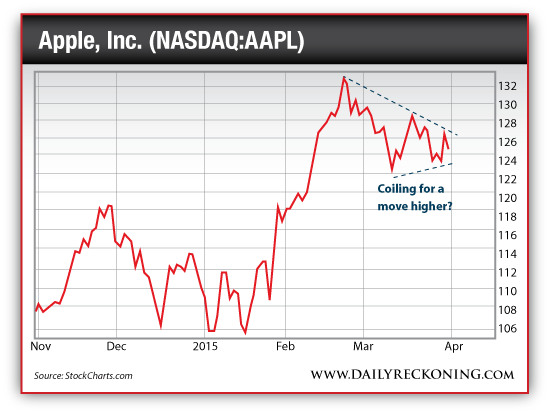 It's April now. That means we'll be getting a lot more hype about the new Apple Watch since its release is just a couple weeks out. That should give this stock a nice fat bounce over the next few weeks. And today is a great time to grab shares because Apple's taking a breather after its big February run-up.
Buy Apple today – and that's no April fool's joke.
Regards,
Greg Guenthner

for The Daily Reckoning
P.S. Buy Apple today – and that's no April fool's joke. If you want to cash in on the biggest profits this market has to offer, sign up for my Rude Awakening e-letter, for FREE, right here. Stop missing out. Click here now to sign up for FREE.