Why You Should Buy the "Worst Country in the World"
You like to think you're a smarty-pants contrarian, too cool to play in the same sandbox as the other kids.
OK big man, today we're gonna see how much of a contrarian you really are…
That's because we're pulling the trigger on one of the most hated trades in the world these days…
I'm not exactly worried yet, but U.S. stocks are leaking oil right now. They limped into the second quarter with losses across the board yesterday. A choppy year for equities has turned negative. The S&P is red on the year. Traders are antsy. Investors are on eggshells.
And by some metrics U.S. stocks are some of the most expensive in the world right now. The U.S. sports a cyclically adjusted price-to-earnings ratio of 27. CAPE basically assesses likely future returns from stocks over timescales of 10 to 20 years. The higher the number, the lower the expected returns over that period.
Only the Philippines and Denmark are pricier by this one metric. So while U.S. stocks ain't exactly super-expensive or bubbly at the moment, they aren't cheap when compared to most other countries right now.
Is the U.S. market tapped out after nine straight quarters of higher prices? I'm not sold but we'll see.
If this information worries you, you can either stuff your cash in the mattress — or you can grow a set and try to put your money to work somewhere else.
Our goal today is to find the most promising cheap market in the world. Sure, there are plenty of cheap markets out there. But I want to dig up the most hated, vile, disgusting markets that could be nearing a turnaround.
Only a few markets are truly dirt-cheap today. Greece and Russia immediately come to mind. And then there's Brazil…
Brazil's market is certainly cheap. The country's a mess right now. And it's dragging the rest of Latin America down with it. Check it out: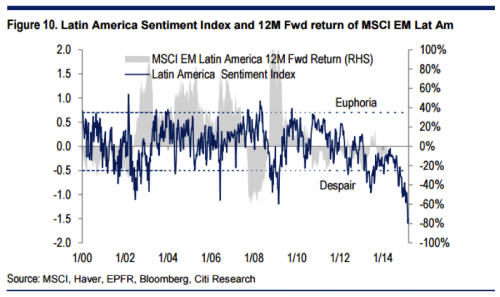 I'm sure the women and the beaches in Brazil are amazing. But the country's in rough shape. Its president is embroiled in a huge corruption scandal. And inflation will approach 8% this year, according to Bloomberg. That will "exceed the target range for the first time in 12 years." Ouch. No wonder Brazil's market is cheap right now. You know what that means…
Maybe it's time to pounce.
I know that sounds crazy. But consider this: Everyone is already expecting the worst. It's no secret that Brazil is circling the drain right now. But all that bad news is could already be "baked into the cake." Bad leadership and poor economic data have sent a ton of investors to the exits. I'm not sure Brazil can get much worse.
I know, I know. I've told you before that just because a stock is cheap doesn't mean it can't get cheaper. And that's true.
But remember when I mentioned I wanted a cheap market that could be nearing a turning point? Well, Brazil is starting to perk up. Maybe it's time to take a good, hard look at it…
Regards,
Greg Guenthner
for The Daily Reckoning
P.S. Do you have the guts to pull the trigger on this trade? If you want to cash in on the biggest profits this market has to offer, sign up for my Rude Awakening e-letter, for FREE, right here. Stop missing out. Click here now to sign up for FREE.