The Market's on Fire Right Now – in These 3 Countries
Stocks blasted off this week, soaring to heights not seen in years!
And what a year overall. The averages are up 20%…22%…33%.
Wait a minute…huh?
I know what you're asking: "Has this guy cracked?"
You're gonna tell me the major averages haven't done squat lately… that the stock market didn't impress anyone this week… and that I've probably been hitting the bottle too hard.
Yeah well, maybe I have. But forget about that. So you want to know what the heck I'm talking about? The problem is you're looking in the wrong place my friend…
See, while stocks here in the states have mostly watched from the sidelines this year, other markets around the world are having a blast. And if you join the party overseas right now, you'll beat the herd of investors who'll eventually figure it out. And you're looking at some double-digit gains here.
I have three countries you should take a look at today — along with some dead-simple funds you can buy that don't need a passport, ties to shady international financiers, or any special type of brokerage account…
For the past few years I've argued that your money should be in U.S. stocks. And for damn good reason. They've soared to record highs while emerging markets were nailed to the floor. Chinese stocks never recovered from their post-financial crisis malaise, and Europe tripped into the gutter like a drunk stumbling home at 4 a.m. Darn right we stayed stateside.
But that's changing now. As I reminded you last week, U.S. stocks are currently some of the most expensive in the world by some metrics. And while U.S. stocks aren't exactly bubbly at the moment, they're certainly not cheap compared to most other countries.
And it doesn't hurt that markets around the world are beginning to break out in a big way. Some of the moves in international markets are so powerful right now they're catching most investors with their suit pants down.
Take a look: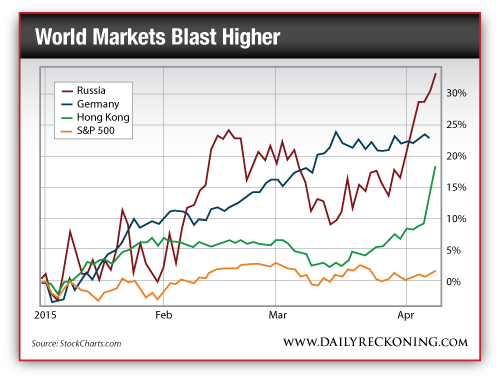 Stunning isn't it?
Take Mother Russia. The Market Vectors Russia ETF (NYSE:RSX) is up more than 33% year-to-date. It's the perfect contrarian comeback story. Russia is hated, its market was decimated by the oil crash, and it's one of the cheapest in the world right now. Check, check…and check.
And what about the German DAX? It's up more than 22%– despite all of its bickering with Greece and the rest of the EU. You can play this one (without the crumbling euro messing things up) with the Wisdom Tree Germany Hedged Equity Fund (NASDAQ: DXGE).
Then there's China. You already know China is one of our trades of the year. But just look at Hong Kong right now. We've told you before how the new "Shanghai-Hong Kong Stock Connect" lets Chinese investors buy stocks traded on both the Shanghai and Hong Kong exchanges. Well, now Hong Kong is playing catch-up with the red-hot Shanghai. The Hong Kong iShares (EWH) ETF is on fire. It's up double digits in just weeks and nearly 20% on the year.
All while the American markets just stand there and watch like pathetic losers at some high school dance…
So it's time you shoved these dorks aside on your way to the dance floor…
Regards,
Greg Guenthner

for The Daily Reckoning
P.S. It's time to give your portfolio a passport. If you want to cash in on the biggest profits this market has to offer, sign up for my Rude Awakening e-letter, for FREE, right here. Stop missing out. Click here now to sign up for FREE.