Ditch These 3 Terrible IPOs
Hey, wanna lose some money? Then go chasing after the next hot IPO.
We've seen it time and time again. Everyone gets sucked in by the media hype surrounding the next big IPO. Then the stock fizzles once the hype machine breaks down. And the gullible suckers who bought are left holding the bag. The stock might come back after it bottoms out. Maybe. But it can be a long march back…
Today you'll see three recent IPOs that went bad. They're Exhibits A, B and C for why you should avoid investing in most IPOs when they first begin trading. They hit the ground running like so many of these things do—but stumbled once the hype faded.
It bothers me that so many investors fall for the IPO hype. Chasing initial public offerings becomes a spectator sport in a strong bull market and every financial journalist in the biz covers the first few days of a new stock's public life. Then they forget about them until that first big earnings miss. By that point most folks are already in the hole.
And IPOs are often just ways for weak businesses to make a fast buck. Social media stocks are attracting investors' attention? Great! Time for every half-ass business that can claim social network status to line up for an initial public offering. You know the deal.
So here are some recent IPOs that probably should have thought twice before jumping into public life…
1. The Container Store Group (NYSE:TCS)
Public since Oct. 2013
Performance since IPO: -55%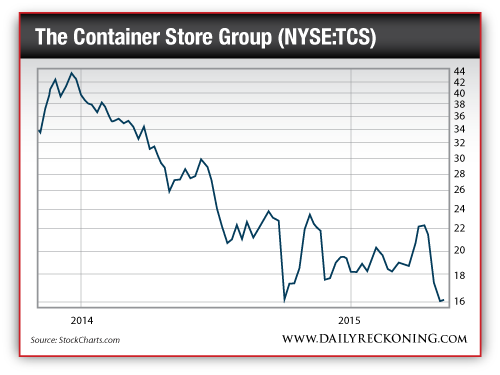 The Container Store is a slob's nightmare. It is literally a store that sells containers, bins and boxes to organize all your junk. If you're having a boring Saturday afternoon and want to make it worse, take a drive to The Container Store.
Its stock got off to a hot start right out of the gate but almost immediately disappointed when it released its first quarterly report. It was all downhill from there…
Last fall the Wall Street Journal had this to say about the stock's 25% drop after it lowered sales forecasts once again: "The company said fewer people are walking into its stores despite discounts and a new loyalty program intended to lure shoppers. Meanwhile, a surge of business from new store openings hasn't been substantial enough to offset two consecutive quarters of declining sales at existing stores."
I guess consumers value their sanity more than organizing their messy attics.
2. Etsy Inc. (NASDAQ:ETSY)
Public since April 2015
Performance since IPO: +28%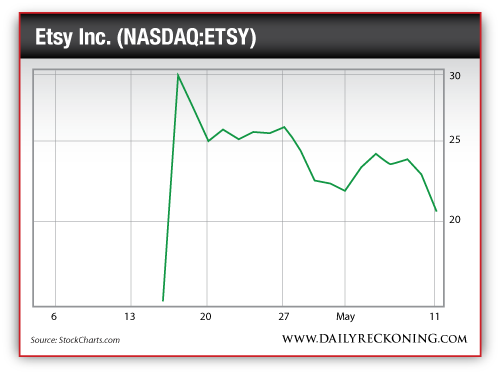 Yes, Etsy is technically higher than its official IPO price. But if you bought the stock the first day it traded you're down a cool 32% right now. Party!
Etsy is kind of an Amazon of cottage-industry arts and crafts. Users sell clothes, artwork, pottery, and other knick-knacks. But its business model hasn't impressed investors so far…
Etsy stock took a big hit Monday after catching an analyst downgrade. MarketWatch reports that the company might have to deal with scrutiny over seller practices, including the "potential sale of counterfeit goods… as many as two million items on Etsy, or around 5% of all merchandise, may potentially be either counterfeit or constitute trademark or copyright infringement."
Whoops. Let's just say counterfeit goods aren't exactly good for business…
3. Amedica Corp. (NASDAQ:AMDA)
Public since Feb. 2014
Performance since IPO: -96%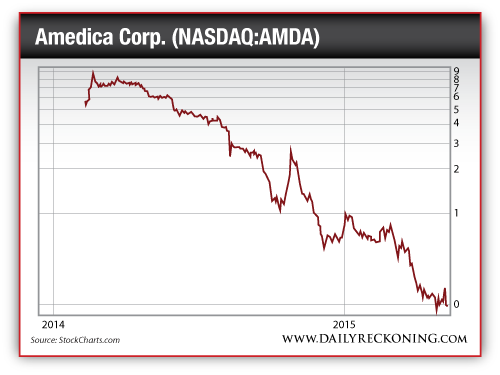 Behold! Here's one of the worst performing IPOs you'll ever lay eyes upon.
Amedica is a biotech/medical device company. You'd think it would have grabbed some buyers during the current biotech boom. But it didn't. That's a huge red flag (as if a stock that only goes down for more than a year isn't a big enough red flag for you).
Regards,
Greg Guenthner

for The Daily Reckoning
P.S. Don't fall for the IPO hype. If you want to cash in on the biggest profits this market has to offer, sign up for my Rude Awakening e-letter, for FREE, right here. Stop missing out. Click here now to sign up for FREE.