How to Spot a Hidden Stock Market Slump
What if I told you we were in the midst of a stock market correction? And what if this correction has been going on for months—right under your nose—without you even noticing it?
You might call me crazy. Or an idiot. Maybe both. But the simple truth is that stocks haven't been kind to the buy-and-hold crowd so far this year. That's because—despite everything the mainstream financial press will tell you— the major averages have been in "correction mode" for months.
I'll explain in just a minute. And once I do, you'll learn how to spot these stealth corrections on your own… and even use them to your advantage when you're trading.
But back to this whole crazy correction idea for just a minute. You might be wondering how a market just coming off its all-time highs be experiencing a correction?
Well, ask any trader this year and he'll tell you— Mr. Market ain't playing nice. Sure, he'll whisper some words of encouragement. He might even give you healthy confidence boost with a well-timed speech. But in the end the stock market is Lucy pulling the football at the last minute. And you're the one spinning end over end after whiffing the kick…
"The way I see it, we already are correcting," our technical analysis guru Jonas Elmerraji explains. "No, stocks aren't outright dropping now. In fact, they're at new all-time highs! But this grinding 2015 price action has basically been having the same effect. It threw a bucket of cold water on investors after the last couple of hot and heavy markets. People just don't know what to make of stocks right now."
There's your correction…
See, the market can correct in a couple of ways. The obvious one is where stocks fall off a cliff. But then there are corrections like we're seeing this year—when stocks just chop sideways for months and months. These "time corrections" can gobble up traders and make longer-term investors question the health of the bull market.
And that's understandable. After all, we're dealing with the third-longest bull market in U.S. history right now. Don't believe me? See for yourself…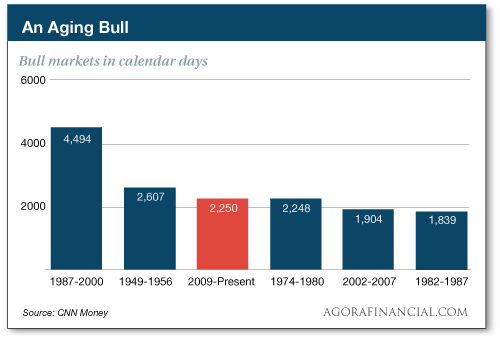 It makes sense that folks are getting a little antsy.
But Jonas reminds us that we need to keep this market action in context with what's been happening over the past six years. That includes the Fed juicing the markets and the average investor stuck riding the pine…
"What I think a lot of market watchers are missing right now is the fact that we're in an environment with very few individual market participants and exceptionally low volatility," Jonas says. "A correction here isn't necessarily going to look like the sort of correction (or crash) you'd expect to see in an exuberant stock market."
Remember, the market's never going to look exactly like you think it should. Stocks aren't magically going to obey your every command. And corrections aren't always going to look like they do in the movies. And with all these folks twiddling their thumbs as they wait for a correction—maybe they're experiencing what they're looking for right now without even realizing it.
Regards,
Greg Guenthner

for The Daily Reckoning
P.S. You've got to understand the signals the market's sending. If you want to cash in on the biggest profits this market has to offer, sign up for my Rude Awakening e-letter, for FREE, right here. Stop missing out. Click here now to sign up for FREE.