This Solar-Powered ATM Is Getting Ready to Spit Out Cash
We're hitting up the ATM for some quick cash this morning.
But this ain't no ordinary ATM. No sir. This one's solar-powered…
That's right– the solar industry's been a virtual trading ATM for us over the past couple years. It just spits out the cash 'til it runs out. Then we just wait until it reloads and collect again. On May 1st we sold our most recent solar position for a 22% gain. And guess what? It's reloading one more time…
Yes, it's time to jump back into solar energy. And we're looking at the potential for double-digit gains in a matter of weeks if this one pans out…
Like any popular, volatile industry, solar stocks have taken their share of licks recently. Oil's 50% haircut late last year didn't help. Alternative energies like solar get hosed when oil is cheap. That's just the way things work.
So you can understand why I backed off solar at the beginning of this year. At the time, every finance article not about the oil crash was about solar. They all talked about how high demand was getting, how much cheaper it was becoming despite cheaper oil… you know the drill. I figured they were just attracting more moths to the flame.
And sure enough, solar got waylaid. But after a few weeks the sector got off the deck, we got back in, and sold for gains on May 1. Ever since, we've waited for the solar ATM to reload. That's when the sector recently started looking interesting again after a rough patch. Just yesterday, we were able to confirm a tradable bounce in solar stocks. Take a look for yourself: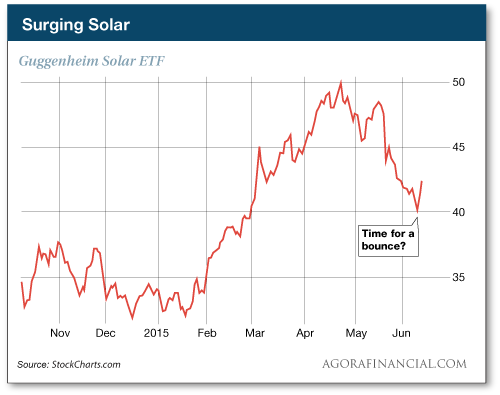 There are plenty of interesting solar stocks on the market. But today I want you to focus on the Guggenheim Solar ETF (NYSE:TAN). That was the name we used the last time we collected from the solar ATM.
But first look what happened to it early last month. The Guggenheim Solar ETF tanked more than 9% one day alone last month. Why did this thing tank? For starters, it needed to cool off after an impressive run beginning in January. Even the strongest trends need to take a break at some point. But more importantly, a group of formerly red-hot Chinese solar names sold off. That was enough to drive investors away from solar in droves—even the ones listed here in the U.S.
But now that's changing. Consider what's transpired just this week: First, TAN bounced perfectly at $40. The ETF gained more than 3% Thursday alone. And I like how it's quickly gaining ground here as the week draws to a close. Add all of this up and we could be looking at an extended run heading into the summer.
It's clear Mr. Market has shaken out the weak hands. And TAN's still hanging strong. And as I told you yesterday, oil's ticking higher again. Another box to check off. So it's time to turn this solar ETF back over to the bulls. And get ready to withdraw some more gains from the solar ATM.
Now, do you want that in $20s or $50s?
Regards,
Greg Guenthner

for The Daily Reckoning
P.S. The sun is shining on solar stocks. If you want to cash in on the biggest profits this market has to offer, sign up for my Rude Awakening e-letter, for FREE, right here. Stop missing out. Click here now to sign up for FREE