Even the Pros Are Getting Nervous About a Crash. Here's what You Need to Know…
Most investors are terrified of a market crash right now.
And you know what that means. You guessed it, stocks shot higher last week. And today you'll see more proof why the crowd is usually wrong…
I told you last Monday about some compelling evidence hinting that a major market move was in the works. And right on cue, the market delivered. The major averages rocketed higher Thursday. And even after backtracking Friday afternoon stocks still finished the week solidly in the green.
The Nasdaq Composite and the small-cap Russell 2000 — another one of our "trades of the year" — posted the really important moves. Both pushed to new highs, dragging the bigger averages higher right along with them.
Just look at these picture-perfect breakouts: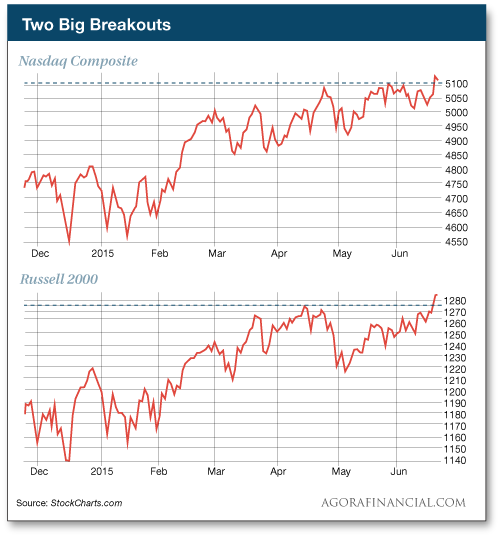 Keep in mind, the S&P 500 and the Dow Jones Industrial Average are both off their highs—even as the Nasdaq and Russell 2000 broke out into new territory. But the big boys are getting in gear. And they're sticking out their tongues at all those scaredy-pants investors who think their run is over.
So just how fearful are investors right now?
They're taking out "insurance policies" like crazy against a market crash.
Barron's notes that over the past 10 days, investors have been buying calls on CBOE Volatility Index, commonly known as the VIX.
"Investors who buy call options on the VIX, commonly referred to as the market's "fear gauge," are basically taking out insurance policies on stocks lest they fall," Barron's explains.
But as I'm always saying, the market's in the business of fooling most of the people most of the time. With everyone and their fifth cousin preparing for a significant move lower in stocks, should you be surprised the markets leapt higher this week?
Still not convinced?
Money manager Frank Zorrilla points out on his blog that even professionals are getting jelly in the belly over stocks.
"Active managers have the least amount of equity exposure since the October swoon, all this while the indices are near all time highs," Frank explains. "Investors Intelligence survey and the American Association are showing the same lack of enthusiasm for the market."
So even the pros are backing off stocks in preparation for a big drop. Right now, everyone from pikers to pros is on the same page: stocks should go down. And that's produced the perfect environment for an unexpected rally.
The next time you fear the market's moving against you, take note of what the media and other investors are saying. When everyone moves to one side of the boat, that's usually a good sign that the exact opposite is about to happen.
We're not contrarians just for the sake of being contrarians, but more often than not you'll win betting against the crowd.
Right now is no exception.
Regards,
Greg Guenthner

for The Daily Reckoning
P.S. Don't follow the crowd! If you want to cash in on the biggest profits this market has to offer, sign up for my Rude Awakening e-letter, for FREE, right here. Stop missing out. Click here now to sign up for FREE