New Concern About Cholesterol Drugs and Diabetes
A recent study in the Journal of General Internal Medicine has raised a long-suspected link between statins used to control cholesterol levels and the onset of diabetes. Patients who were perfectly healthy otherwise but who had been prescribed statins to control their cholesterol levels were compared with an equal group of healthy patients. Each group of 3,351 people was screened from a larger group of nearly 26,000 people who were in the Tricare health program of the U.S. Defense Department. The program provides managed medical care for military retirees, active military personnel and their families.
The two groups were studied from 2003–2012. The people who took statins had an 85% greater chance of developing diabetes than those who didn't and an even higher risk of developing diabetes with complications. Healthy people who took statins also had a higher risk of becoming overweight.
The study is relatively short term and the authors point out that it does not show whether people using statins who are healthy but have high cholesterol will live longer or shorter lives, only that they are more likely to become overweight and much more likely to develop diabetes. Previous medical studies have shown an increased risk of diabetes among people who take statins.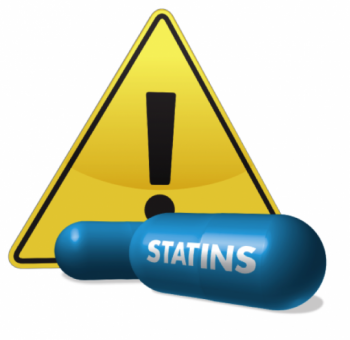 One of the authors of the study noted that use of statins can be very valuable as a treatment option for cholesterol, but that losing weight, exercising more and not smoking could be wiser choices for otherwise healthy people than taking a statin.
There are surprisingly few long-term studies showing whether statin use actually helps people live longer.
Two new nonstatin drugs for controlling cholesterol are now being evaluated by the FDA and have created a buzz among cardiologists. The drugs are alirocumab, or Praluent, from Sanofi; and evolocumab, or Repatha, from Amgen. They are a new class of LDL-lowering drugs that differ considerably from statins. In trials, they were far more effective than traditional statins in creating dramatic differences in cholesterol levels in the blood and worked better on patients who had been difficult to treat with traditional statins. A significant number of people do not react well to statins.
The new medications are monoclonal antibodies that block PCSK9, an enzyme that regulates cholesterol levels in the human body. Evolocumab has been approved by CHMP, the Committee for Medicinal Products for Human Use, a regulatory body whose recommendations can lead to drug approval in the European Union. The drugs could be especially useful for people who develop a disease called familial hypercholesterolemia. People with that genetic disease often die before they are 50.
An FDA decision on alirocumab is expected in late July, and a decision on evolocumab is expected in late August. Biotech analysts have predicted a $2 billion market for the drugs.
The ultimate question with statins and the new class of drugs not yet FDA approved is not whether they lower a person's cholesterol but whether a person is significantly less likely to have a heart attack because they take the drug. Although some long-term trials indicate that lowering cholesterol levels does lead to fewer heart attacks, the results are far from definitive. In fact, there is still considerable debate about whether or not high cholesterol levels actually cause heart attacks. And there is debate over whether the anti-inflammatory aspects of statins are a more important part of the outcome than levels of cholesterol.
One of the most confounding aspects of cholesterol intake from animal fats is that people who eat eggs, which contain more cholesterol than just about anything you can eat, pound for pound, do not have a higher incidence of heart disease — with one exception. Studies show that people with Type 2 diabetes who consume animal fats may have a higher incidence of heart disease, although no one knows why.
New guidelines for physicians throw out the idea of using cholesterol "numbers" to define who should and should not take a statin and instead call for using a more sophisticated overall approach to measuring the threat of heart disease.
Nonetheless, physicians and cardiologists are likely to prefer so-called lifestyle changes to prevent heart disease than modern medicines. The problem is that only a tiny percentage of patients get the message and actually change their diets and exercise more.
To your health and wealth,
Stephen L. Petranek
for The Daily Reckoning
Ed. Note: Get the top investment trends for 2015 in medicine and technology from the former head of the most popular science magazine in the world. Simply sign up for our Tomorrow in Review e-letter for FREE right here. Don't miss out. Click here now to sign up for FREE.