Here's Why You Should Never Take Investing Advice from a Chinese Hairdresser…
China is crashing.
There. If you want it sugarcoated go somewhere else because I ain't doing it.
And I'm about to tell you exactly what to do about it…
The Shanghai Composite just dropped another 6% as China's newly-minted trading class continued fleeing stocks. The Shanghai is now down about 30% from its peak last month. Nuts. But to give you an idea of how crazy this market has been, the composite still boasts a one-year return of about 85%. Like I said, nuts.
A raging bull market has quickly turned into complete panic. And it's getting easier to compare the anecdotes coming out of China to the roaring 20's in the U.S…
"Taxi drivers told you what to buy," begins the famous quote from investing legend Bernard Baruch. "The shoeshine boy could give you a summary of the day's financial news as he worked with rag and polish. An old beggar who regularly patrolled the street in front of my office now gave me tips and, I suppose, spent the money I and others gave him in the market. My cook had a brokerage account and followed the ticker closely."
Baruch was talking about the market boom of the 1920s—and you know what happened to the shoeshine boy when the market crashed in 1929.
But if you're looking for the modern-day equivalent of the shoeshine boy stock analyst, you'll have to book a flight to China. This time around, it's hairdressers who are dishing out the investing advice.
"Sophie Wang, a 32-year-old college art teacher in Nanjing, said in a recent interview that she opened her first stock trading account two weeks ago and bought some shares on 'the advice of my hairdresser.' The Wall Street Journal reports.
"Ms. Wang said her holdings are down 32%. 'I don't really follow news on stocks that closely. My hairdresser said it was still a bull market and I needed to get in,' she said. She said she didn't know what to do when the market started falling and she is still holding her shares."
Sounds totally reasonable. I prefer to get my stock tips from the kid who sweeps the floors at my local pizza shop. But whatever floats your boat…
And let me tell you, Beijing is throwing everything and the deep-fry wok at the markets to try and stabilize them. The big joke now is that they'll just give up and make it illegal to sell shares. But hey, with the sheer number of Chinese stocks that have been halted over the past couple of days, it's almost impossible to sell right now anyway.
Of course, this insanity has wreaked havoc on one of our trades of the year, the iShares China Large-Cap ETF (NYSE:FXI). After yesterday's drubbing, FXI is barely up on the year. And since we first recommended this position back in November, our open gains are down to under 10%.
Take a look: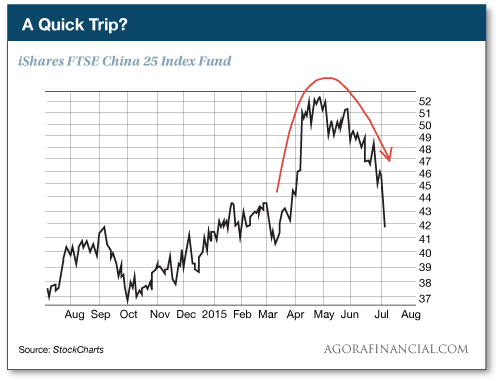 FXI has never been the perfect way to play the China bull. But it wasn't as volatile, either. It doesn't contain all those sweet speculative names novice traders were gobbling up over on mainland China. So FXI's swings have been much more subdued. So it was the best (and safest) option we had to play the trend.
But today, it's time to cut this psycho loose. Here are the two main reasons I want you to get out of this trade now:
The Chinese government can't stop sellers. China is famous for juking its economic stats (shocking, I know). But when it comes to markets, they should give it a rest. Nothing short of closing down trading will stop people from selling if they want to sell. And I mean nothing. These control-freaks are doomed if they think they can magically make people want to buy slumping shares at-will…
We don't want a sizable gain to turn into a loss. Back in the spring, FXI was on fire—and we were sitting on some nice double-digit gains (but nothing approaching the Shanghai's performance, unfortunately). However, with this week's breakdown, FXI runs the risk of completely falling apart. And as you know, we don't let gains turn into big losses. That's bad policy that leads to hanging onto positions longer than you should.
When I first started talking about this play last year, I said the Chinese market was going to become one big bubble that would ultimately end badly. And we've had the chance to play it as best we could here on our side of the world. But now it's time to sneak out the back door…
But right now, we have the opportunity to get out of our China play with exactly zero damage—and maybe some small gains if you've been playing along since day one. But by following our rules, you can save your brokerage account from the carnage entirely.
Just don't tell your hairdresser you're cashing out…
Regards,
Greg Guenthner
for The Daily Reckoning
P.S. The Chinese bull has collapsed from heat exhaustion. If you want to cash in on the biggest profits this market has to offer, sign up for my Rude Awakening e-letter, for FREE, right here. Stop missing out. Click here now to sign up for FREE.